THE SAGA OF RAGS TO BELLA
Thursday, October 14 2010 @ 02:10 pm UTC
Contributed by: erik
Views: 2,403
THE SAGA OF BELLA FINDING A NEW FOREVER HOME
THE QUICK STORY OF BELLA
Bella was discovered as stray in Charlotte County. She apparently had been discarded from a car on a lonely road with no food or water. She was sighted by the family that owned the property and taken in. She was frail but sweet and they were able to coax her to their home. Bella was named Rags and was put with their 5 hound dogs and a few cats. She adopted them and quickly adapted to her new environment.
Within a day we were called to come get her for rescue placement. When Diane and I arrived we found a sweet and loving dog with no aggression and true adaptability. She loved their son and their other pets, both cats and dogs and was calm, sweet and responsive to people.
We took Bella to the AWL as is the law concerning possible rabies areas in the county and kept her there for the waiting period. After that time had elapsed Bella was spayed and given all her shots and was returned to our home. Here again she worked herself in perfectly adapting to our cats and dogs.
We had an opportunity to adopt her out to a Mother and Daughter. The daughter named Tommy fell in love with Bella but due to some personal circumstance they could not keep her and returned her the next day. Bella remained here with us until the most amazing thing happened.
We received an email from a Lady wishing to see her. It turned out that she is in the medical community and able to treat Bella's spine.
Both Melody and her son Dillon came here for their interview and fell in love with Bella… as we knew they would and they adopted her.
It seems that somehow there is intervention in these adoptions that makes sure dogs coming through our rescue find quality loving homes… no mater what.
We are thankful to Melody for caring as much as she does about Bella and we know that their life together will be rewarding and satisfying to both.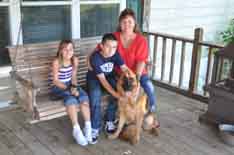 RAGS'S FOSTER FAMILY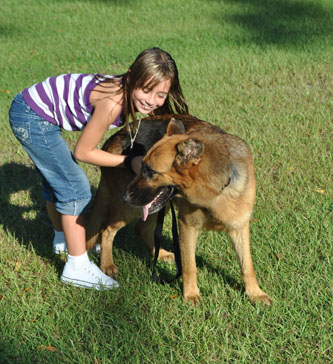 TOMMY AND RAGS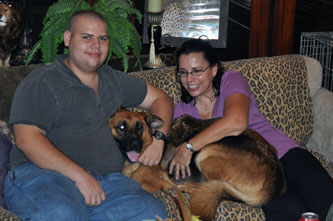 BELLA'S NEW MOM MELODY AND SON DILLON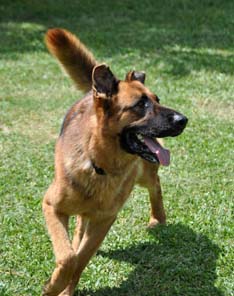 BELLA STRUTTEN HER STUFF!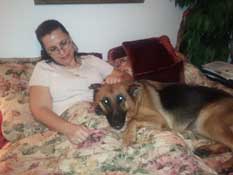 BELLA NOW WITH HER NEW MOM