Maverick a special has dog needs a home
Thursday, February 01 2018 @ 12:09 pm EST
Contributed by:

Admin

Views: 975
This is a courtesy post for a Florida east coast German shepherd rescue. Eleanor has been rescuing German shepherd dogs for over 30 years.
This dog was abused and screamed at. He is shy and very timid. These shy dogs take time to trust. This will not be a dog you will be taking out in public and exposing him to lots of people. You will need to stand up for him and allow him to go to his kennel if people come over. You will not be able to rush him to greet people. He does not bite.
He loves his kennel and feels secure there. He gets along great with dogs.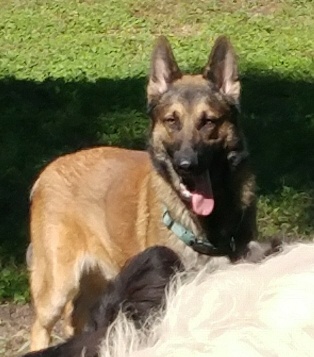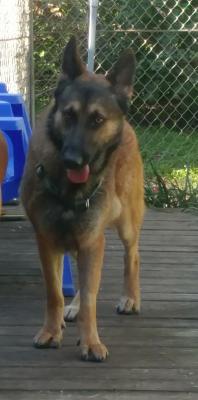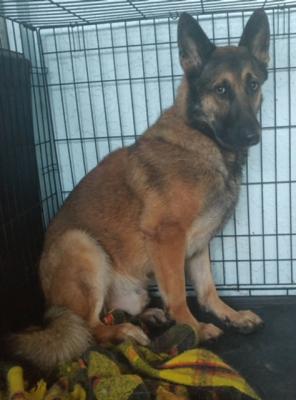 This would be a great dog for a calm, quiet household with adults only. Someone who is ok with a less than perfect companion who is a homebody with the dog. Someone very patient with building a relationship with this dog.
Please see what the rescue/ foster writes about him below.
This adoption will be handled by Eleanor . If interested please call her at
321-724-8873.
The dog is on east coast of Florida.
Thanks
Shari
---------------------------------------------------------------------------------------------------------------------------------
Per foster:
Maverick is very timid and takes a while to warm up to people. Once he is comfortable with somebody, he is handleable by that person - no fear of him ever biting. Allows brushing and ear cleaning and general touch. But he will still not approach anyone. Ever. He bolts out of his crate and straight out to the yard then bolts back inside directly into his crate when the door is opened to allow him back in. He can be leashed in his crate and walks fairly well on a leash. He's fearful of everyone but not really freaky around noises like the lawnmower or vacuum cleaner. Gets along great with the other dogs. Ignores the cats..