THE STORY OF EBO
Monday, July 19 2010 @ 10:06 pm UTC
Contributed by: erik
Views: 2,445
THE STORY OF EBO SNOOT
THE STORY OF EBO
Around June 1st, Diane and I received a call from the Collier shelter. We were told that they had a really sweet older dog there named EBO, who was left tied to the shelter fence that prior Sunday night. EBO, so we were told, was having some skin issues but seems calm and affectionate but really needed to be out of the shelter and into a home. We were at the shelter anyway to pick up another GSD, but we said we would take a look at him and make a decision then.
Upon seeing him and interacting with EBO we found him to be a big teddy bear and we immediately said we would take him into our rescue.
To most of us taking a dog into rescue means that we will aggressively try and find him a suitable loving home and then send him on his way as soon as possible.
To Diane it means, we will evaluate him and once we nurse him back to health, no matter how long that may take, we will keep him because no one probably would want a 7 year old dog with all kinds of skin conditions and infections… anyway.
EBO was obviously in pain in his ears, he had 5 inch wide skin pads on his elbows from being on cement for his entire life, he had no hair on his belly or neck from a yeast infection and collar abrasion, he was extremely thin, so much so that you could play the harp on his rib cage, his fur was coarse and did he stink…. These were his obvious conditions, but there were more after we had him examined by our vet.
All the while we treated and cared for EBO, he continued to just poke around the house with our 4 dogs and 4 cats and just grew into the pack seamlessly. After a week of double feeding him he lost weight! We found out that he had a simple to correct digestive ailment and after treating that, then his ear infection, his skin issues and weight issues…. he was now on the road to recovery.
After week 2 we taught EBO to swim. He could hardly make it across the pool once but had a good time watching the other dogs at play. We have now had EBO 6 weeks. All his conditions are being treated, he is gaining weight slowly, his energy level is way up, his fur is perfect, he can swim 25 laps, he learned to bark at splashes and squeaks the pool toys incessantly and loves drinking directly from the hose.
I guess by the sound of this you know that we are keeping him, because what's another dog in the pack… especially one like EBO. I hope that whoever gave him up can read this and see his happy face knowing that he is being cared for "in-style", he is healthy and loved and he now belongs. I also know that the people who left him there at the shelter did love him. I know that because there is not a mean or aggressive bone in his big body. He was trained and socialized and he was taught to be respectful. He loves everyone, even Marvin Mouse, our cat/dog.
Older dogs make great pets and companions. They have gone through their puppy stages, their 'I'm the boss' stages and their 'don't try and teach me anything' stages to a point where they just want to please you and be loved.
Having just done our 20th German Shepherd Dog this year we are proud to say that we adopted our 17th last year in Sadie the Weasel Dog and again our 17th this year in EBO. I decided everyone needs a last name so I named him EBO SNOOT for no logical reason.
Here is what EBO looks like now and what our pack looks like with him!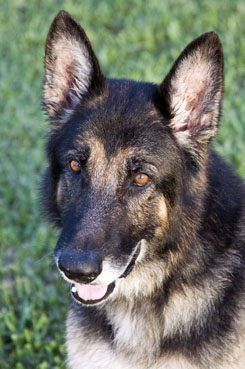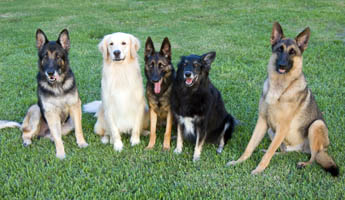 LEFT TO RIGHT
EBO SNOOT, FANCY SCHMANCY CLANCY, SADIE WEASEL DOG, SNUDLY VON BUDLY, BAXTER PUSS