Amy Has A Great New Family
Friday, March 01 2019 @ 05:46 am EST
Contributed by:

Admin

Views: 537
SWEET AMY HAS A NEW HOME
Amy is an older female , anywhere from 7-10 years old. Her foster who has extensive experience with older GSD's feels she is 7-8. She is a petite girl at 54 pounds. Sweet and calm DOG AND SUPER PEOPLE FRIENDLY.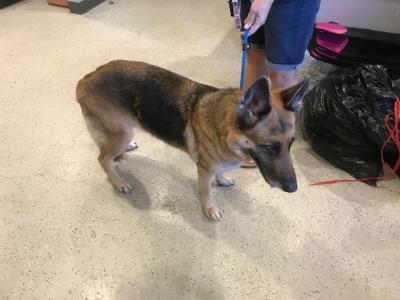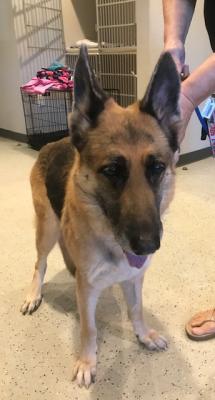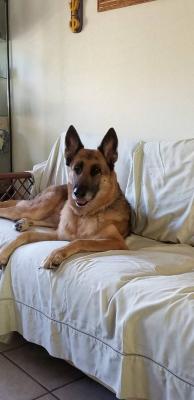 [image5_right]
AMY
>
> Looking for a quiet companion? That is the perfect job description for Amy. Amy is 8-ish, very low energy, very quiet (we have yet to hear her bark) and just under 60 lbs. She is UTD on shots, heartworm negative, and unsure if she is spayed but if she were to come into a heat cycle the rescue will cover the cost of the spay.
>
> Amy has a few physical imperfections, don't we all? She has some scarring on her left lower leg from an old injury that does not effect her in any way. She also has a teat that is hanging and flabby that the vet did not feel was worth removing as it is not anything to be concerned about.
>
> Amy is currently fostered with 5 other GSDs and, while not into playing, she enjoys their company. Amy has not been cat or kid tested yet. She has shown no prey drive and is so low key that I doubt a cat would worry her. At her age, a home without children or with older children would be preferred. She is completely non-reactive to other dogs.
>
> Amy does not expend a lot of energy on affection. She is not a tail wager and at first, appears aloof. Once she knows you, she will come for some petting and will give an occasional lick or two. She absolutely loves car rides and takes treats ever so gently. Amy qualifies for our Seniors for Seniors program.
>
> Amy is a very nice, older girl that is just looking for a quiet home with a soft bed and some nice neighborhood strolls.
>
>
Call Shari 719-924-3969 to meet this sweet special girl!
If you are 65+ she is available for the seniors for seniors program for $250.