BEAR450 NEEDS A NEW HOME
Friday, December 16 2022 @ 12:00 am UTC
Contributed by: erik
Views: 933
BEAR 450 NEEDS A NEW HOME BEAR 450 Originally came to us in Oct of 2022. He was brough here just after hurricane IAN by a firefighter whose mothers home was destroyed by fire and the hurricane. He was her dog. He reported to us that Bear was great with his daughter, who was with him at the time, and that proved to be true. Bear likes kids but is NOT recommended for a kid home. Bear is great around the house, but as you will read has some reactive problems that were never delineated to us when he was turned in. He is definitely trainable, but by someone with a strong hand and an alpha personality. Bear however is 11 years old and will make a great companion for the right person or family. He is healthy, engaged, smart, savvy, housebroken, neutered, chipped and UTD on shots. He is trained in basic obedience stuff. He was adopted by his foster and has been there now for a few months time. She wrote the following narrative about him to explain him to a prospective adopter.
Bear was given up during hurricane Ian. Firefighter son contacted you. Mom was hiding in a closet with Bear when house caught on fire and burned to the ground taking with it the kitty. Mom is a cancer patient.
Bear was originally described as good with children and kitties and low energy. HE WAS HEARTWORM POS AND BEING TREATED. His energy has greatly improved as he is getting stronger. Downright frisky in the morning as we get through the heart worm treatments. He loves to play with squeaky balls and chewing the nylabones.
I give him one OraVet chew a day for dental health.
I discovered: He is good with kitties in the home, not outside.
He is excellent with all people and children.
I discovered: He is heart worm positive, he had ear infections, overgrown nails, some kind of bug was infesting his coat, scratching without end. Needed Carprofen, Bravecto, Heartguard, medicated shampoo, antibiotics for ears plus prescription ear wash, and an additional 10 pills a day for his heart worm. He was vomiting daily which I was told was most likely due to the meds. He wouldn't touch the prescription probiotics.
I ordered 100 mg Carprofen from Canada. I break one tab in half. He gets one half in the morning and half at night with his dinner, disguised in a small piece of slightly cooked chicken tenderloin. If he wasn't on the heart worm meds he would be a frisky pup!
Being treated for heart worm. He had his first shot Dec 13. Next two shots are in January.
His pills are given twice a day. He often spits the meds out and needs to then be forced fed down the throat which can be done without much resistance. Again I try to disguise them in a small piece of chicken tenderloin.
He was refusing to eat. I tried raw feeding to help with the allergies. It was fine and then not. I have gone through allot of food. He rejects ProPlan for sensitive skin and allergies, and Wellness for sensitive stomachs. He is not particularly fond of salmon and fish which I found surprising.
The magic food formula is good cup of Rachel Ray's Nutrish Real Beef, Pea and Brown Rice Recipe kibble, two broken up Stella & Chewy's Freeze Dried Raw Lamb but if I don't add the pieces of chicken tenderloin, he will refuse to eat. That's why I try to disguise pills in the chicken and rub them over the rest so he will eat.
Weight is now 99 lbs down from 112. I feed twice a day.
He is a sweetie in the house and very lovely companion. But his fear aggression on walks has come forth since he is now healthier. It will take a patience and time to train out of this habit. I am unfortunately not of the age and strength to do this.
I have a safety harness and tether I have to use in the car. Otherwise he fights to jump in the front seats and back again. I will give these to the next guardian.
I hope this is helpful.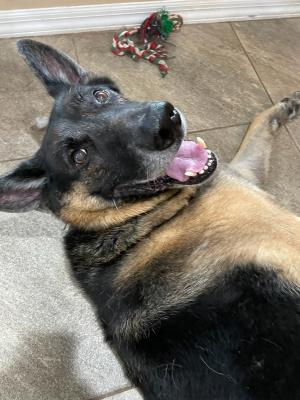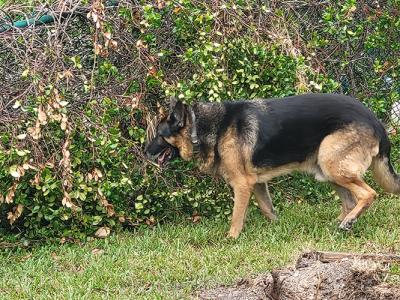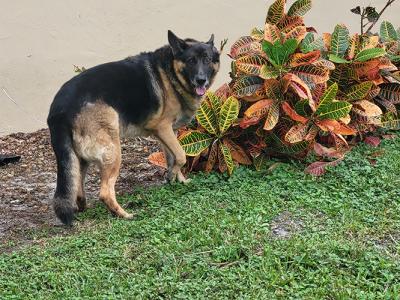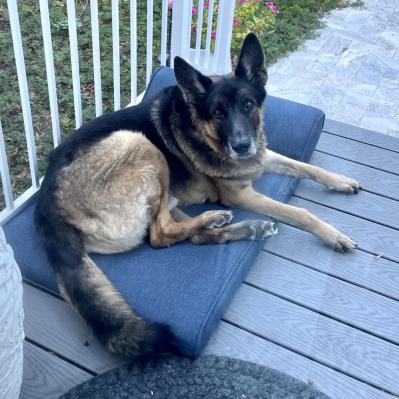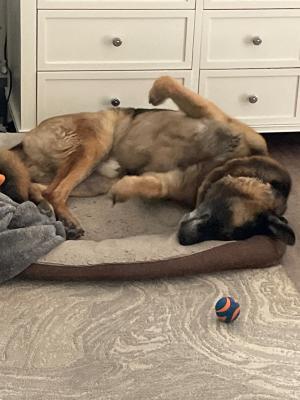 [image6_right]
[image7_right] [image8_right]