KANO HAS A NEW FAMILY AND HOME
Sunday, June 26 2022 @ 07:38 pm UTC
Contributed by: erik
Views: 3,602
KANO HAS A NEW HOME AND FAMILY KANO is a true 'tail' of misfortune.  HIS INITIAL STORY IS BELOW THIS UPDATE:
KANO is about 3years old. he has gone through hell in his lifetime but is still eager to please
and will make a great companion. He is now heartworm free, trained, housebroken, obedient, loving and affectionate. He likes people and dogs, untested with cats, but with his temperament he probably would do well. He has been in foster for 3 months here in FL. Doin, his foster dad has taken him from a wild child to a super dog. He is now a perfectly healthy, well adjusted young male with everything to look forward to with the right leadership and companionship.
He is neutered, UTD on shots, chipped and walks on a leash, has great recall and is very people oriented. He would make a great companion, protector and family member. He has not been with young kids but again with his temperament, would do fine with any kids 6+ since he needs playmates who would respect his size. He is playful and engaged and can learn easily. His original story is written below BUT HE IS NOWHERE NEAR THAT DOG THAT CAME TO US. HE IS A NEW BOY, READY TO GO HOME AND MAKE A FAMILY COMPLETE.
He was first dropped off, anonymously at a shelter in "God Knows Where" Alabama. Fortunately for him there were a lot of pretty tremendous people there who recognized his qualities and provided for him for all of this time. He was in that shelter for ONE YEAR, yes one whole year. He was in a run with limited play and out time, but he managed to survive and actually thrive. Along came his PRINCESS in a gal named Christin who was hired as their transport manager. Her job was to find placements and transport the dogs to these outlets. Some of the outlets were rescues, like us, and others were shelters who didn't have sufficient dogs to adopt out. Kano languished month after month with no one coming for him and no shelter wanting him as he is HW POS. The shelter started treatment and he is well on his way to recovery. Kano had the chance to come to us because of Christin's tenacity in reaching out to me, and my willingness to listen. We decided to use PILOTS FOR PAWS, a group of volunteer pilots who fly dogs around the country, on their way to different places. As luck would have it, once such pilot named James, took on the job of getting him here from Alabama. He was placed in a small plane this morning 6/26 and flown here tp Punta Gorda. Upon arrival he was eager to see everything and to pee on every tree in FL. He then met his new foster (possibly foster failure Mom Kelly) and went to her home with her two GSD's to complete their family.
Although he is in a foster situation, Kano is still not yet adopted and I have decided to place him on the site, just in case, so as to have a back u plan B in case things go south.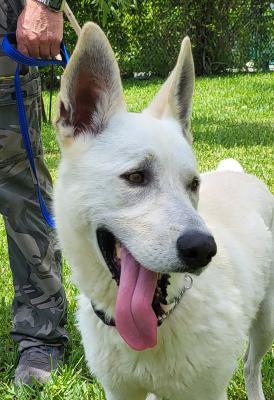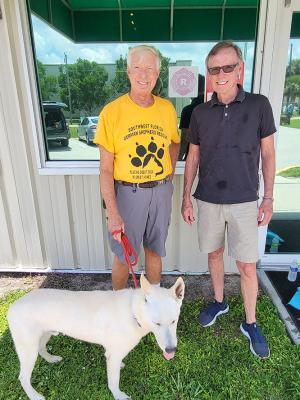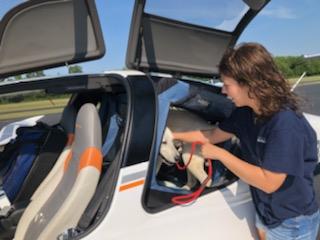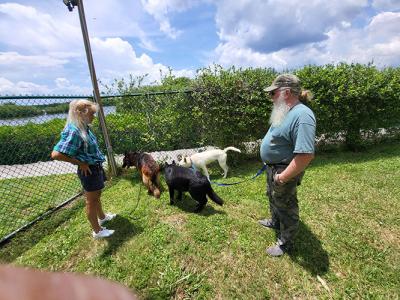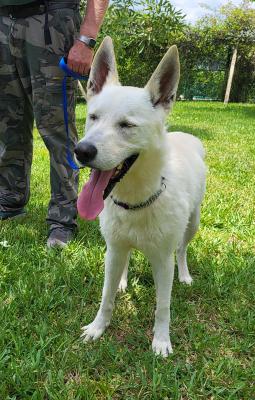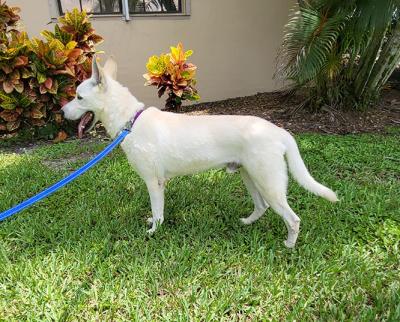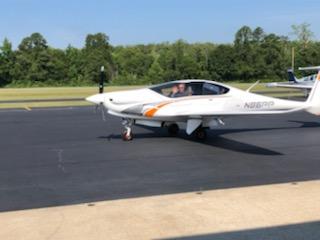 [image8_right] [image9_right]
[image10_right] [image11_right] [image12_right]