KAI KAI HAS A NEW FAMILY
Monday, July 06 2020 @ 08:18 pm EDT
Contributed by: erik
Views: 2,912
KAI KAI HAS A NEW HOME
UPDATE ADOPTION PENDING KAI KAI is a 9 year old spayed sweet female black and tan GSD. She is being relinquished because her owner, a first responder/paramedic, keeps such difficult hours that Kai Kai is not getting the love and attention she needs. She has been with her owner for all of her life and is loved and cared for. She is healthy, UTD on shots, HW Neg, house broken trained and affectionate. She is athletic and obedient and with a great temperament suitable for most any family in a single dog home. She has recovered from an ear infection which is no big deal at all. Kai Kai isn't the best car rider as she is a whiner when the wipers go on but loves the destination and to be with her family. She is leash trained an she has good obedience skills. She may be 9 but plays ball 2 hrs a day and acts more like a 3 rd old. She does have a prey drive for rabbits and needs a prong when walking in areas that have small critters around. If you wish to meet her she is available immediately.
Foster eval:
KAI KAI IS VERY ENGAGED, LOVING AND AFFECTIONATE
-EMBRACES MOST EVERYONE, WITH THE EXCEPTION WHILE WALKING ON LEAD IN NEIGHBORHOOD.. SEEMS TO BECOME PROTECTIVE AGAINST STRANGERS OUT ON WALKS. MUST BE WALKED ON A PRONG COLLAR. She has been with us now for 4 weeks and during that time has taken corrections well and is far better when meeting other dogs on the lead.
-CHIPPED
-VERY PLAYFUL! SHE LOVES TO PLAY WITH HER BALL. HAS 2 FAVORITE BALL TOYS. IS HAPPY TO PLAY EVERYDAY, ESPECIALLY AFTER EATING
-KENNEL TRAINED. LOVES TO GO IN AND OUT OF HER "HOUSE" THROUGHOUT THE DAY. I LEAVE THE DOOR OPEN.
-FURNITURE AND BED FRIENDLY. LOVES TO "SPOON" WITH OWNER AND ACTUALLY PUTS HER HEAD ON THE PILLOW. LOL!!
-SLEEPS THROUGH THE NIGHT.
-HAS STORM ANXIETY, ESPECIALLY LIGHTNING. IS NOT GOOD IN CAR WHEN STORMING. WILL CRY LOUDLY, ESPECIALLY IF WINDSHIELD WIPERS ARE ON…
-CAR RIDES – DOES BEST WHEN A WINDOW IS ROLLED DOWN 8 INCHES SO THAT SHE CAN STICK HER MUZZLE OUT AND SMELL ALL THE WONDERFUL SCENTS.
-RECOMMEND OBEDIENCE TRAINING WITH ADOPTIVE OWNER(S), TO HELP KAI BOND WITH NEW FAMILY.
SHE DOES UNDERSTAND THE FOLLOWING COMMANDS:
SIT
LIE DOWN
GO TO YOUR HOUSE
COME (CLAP MY HANDS TWICE TO GET HER ATTENTION)
STAY
BACK
"DROP IT" FOR BALL. I GIVE HER A "DROP IT" COMMAND, FOLLOWED BY A "BACK" COMMAND SO THAT SHE DOES NOT TRY TO SNATCH IT OUT OF YOUR HANDS WHEN YOU'RE REACHING FOR IT.
-TREATS-CAN BE "GRABBY" WITH TREATS, SO I ASK HER TO GO TO HER HOUSE, AND SIT. THEN, I PUT THE TREATS IN HER KENNEL.
-FOOD: KAI IS NOT A BIG EATER. I FEED HER 1 & 1/2 CUPS OF FOOD TWICE A DAY. SHE USUALLY CLEANS HER BOWL. I GIVE HER TREATS 4 TO 5 TIMES A DAY.
-DIET:
KAI SEEMS TO HAVE ALLERGIES. SHE HAD SOME IRRITATED SKIN PATCHES. BECAUSE OF THIS, WE HAVE PLACED HER ON VETERNARIAN RECOMMENDED FOOD.
SHE IS ON A SCRIPT FOR ROYAL CANIN: HYDOLYZED PROTEIN – ADULT.
THE SCRIPT CAN BE TRANSFERRED UPON ADOPTION. I HAVE BEEN GETTING IT AT PET SMART, BUT MAY BE CHEAPER AT CHEWY.COM, OR SOME OTHER ONLINE STORE. (THE FOOD IS MORE EXPENSIVE THAN OVER THE COUNTER FOODS, BUT HOPEFULLY SHOULD HELP ELIMIATE FUTURE EAR INFECTIONS AND SKIN SENSITIVITIES.
-TREATS RECOMMEND TREATS WITHOUT MEATS AND NO ANIMAL RAW HIDE BONES… SEEMS TO LIKE PUMPKIN AND SWEET POTATO.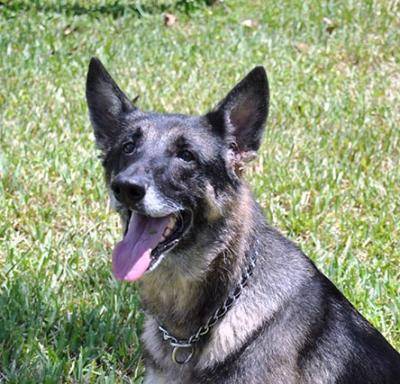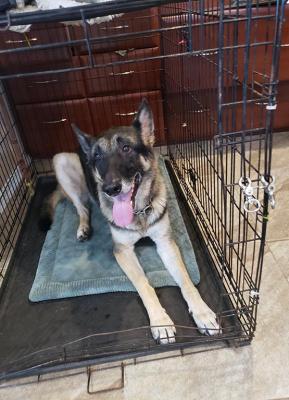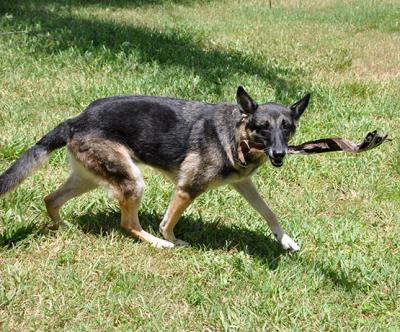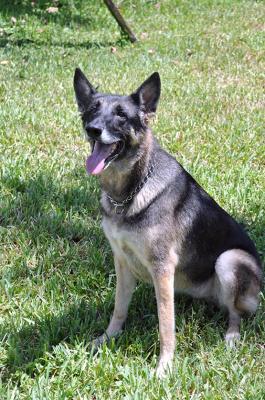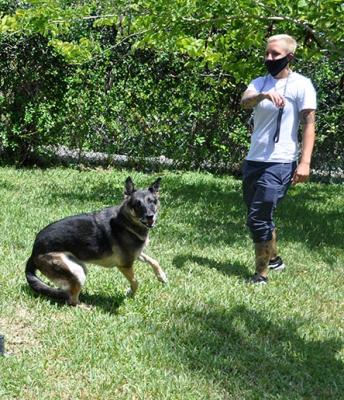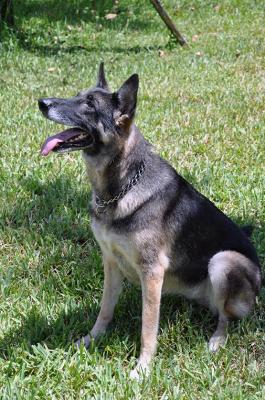 [image7_right] [image8_right]