JACK AKA NEMO NEEDS A NEW HOME
Sunday, June 14 2020 @ 01:30 pm EDT
Contributed by: erik
Views: 607
JACK AKA NEMO NEEDS A NEW HOME
UPDATE ADOPTION PENDING NEMO who is now known as JACK came to us through Sarasota. He was a street stray and never claimed. Jack is a MIX BEWTEEN A SHEP AND MAYBE A ROTTIE but we have no clue. He was a bit of a wild child at fiorst buit the family that initially adopted him cared for him so, that they spend lots of time training him. He is obedient, super affectionate and smart. he knows stay, sit, speak, paw, walking on a lead and a bunch of other great things. He is about 100 pounds of muscle and must be controlled by a leash or verbally. Any person or family who adopts him must be a strong alpha leader. He doesn't like bicycles and in a vehicle can be protective, but in the home he is a sweet calm dog. He loves to swim and has a blast in the pool. The current adopters wrote the information below:
The good things about Jack, he is very, very smart, learns fast, he loves water, to swim, to retrieve things, he does not chew things he shouldn't, he is housebroken, very gentle, he is crate/kennel trained but does not need it, except when left alone, no food aggression, walks well on a leash, obeys many commands, sit, down, come, place, touch, roll over, fetch it, bring it, release, speak verbal, also silent snap fingers to speak. Loyal to master/masters. He is used to the pinch (prong) collar.
Bad things...he cannot stop attempting to chase lizards, birds, rabbits, flies, etc, pretty much anything that moves in the yard, he will target, and remembers each place he saw one. He aggressively defends the car he is in, hates motorcycle or bicycle riders, loud trucks, etc. He will become aggressive with someone or another dog, even after meet and greet, if he thinks his owner is threatened. He does not like being separated from his master. Jack is approximately 90 lbs, approximately 2 years old and a mix of German Shepherd and Malinois or Rottweiler. He will make someone a great companion & personal watch dog, but he is strong and needs a strong master.
After reviewing these comments, we will only consider people or families who have limited contact and live in an area that would limit these trigger distractions.
He is being kept by the family until a suitable family can be found. It is important to note that the reason he is being relinquished is that the family that has him lives in an area where these distractions are a daily occurrence and they just ca't hang on to him when he decided to chase a bike or motorcycle and not for any other reason.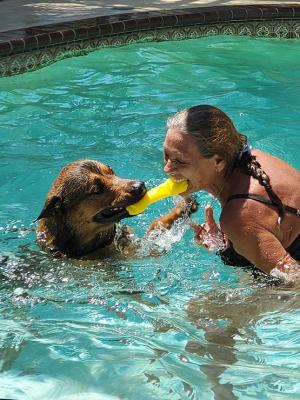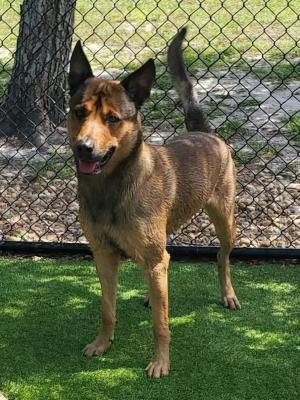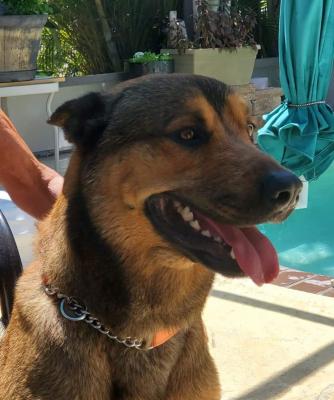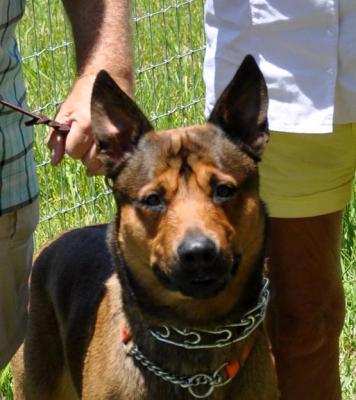 [image5_right] [image6_right]