BRISBY HAS A NEW FAMILY
Monday, February 03 2020 @ 10:00 am EST
Contributed by: erik
Views: 699
BRISBY HAS A NEW FAMILY
adoption BY foster family Brisby was turned into the rescue yesterday from a family who could no longer give her what she needed due to family issues. They loved and cared for her as much as anyone could possible do and they loved her to the same degree.
Brisby was purchased by them as a puppy and never got the full socialization she needed. She is fully home and obedience trained and extremely obedient, healthy, UTD on shots, HW Neg, loves to swim and to play ball. She is a bit aloof at first meeting and yet warms up in a few minutes when she gets to know the person. She alerts well and is focused on her person at all times. She lived with a two year old and was super gentle to the baby. She is a combination between a black and tan and sable color with excellent hips and confirmation. She has a sweet face and soft fur. Brisby is spade and not chipped but we will do that upon adoption.
Her foster is considering keeping her but I have posted her just in case...
HERE ARE THE NOTES AND OBSERVATIONS FROM THE FOSTER:
Hello Erik -
It has been a learning week with Brisby - we've been teaching her and she has been teaching us. Here are a few of the observations:
First, the good things:
• She has an excellent temperament, and could not be any better trained. We have had no issues leaving her with free reign of the house when we have been at work.
• We have brushed her multiple times and trimmed her nails without any problems. She is very accepting of both.
• When playing outside in the yard with a ball, there are no issues with her running off. She stays nearby and comes immediately when called.
• She will not get on the furniture (at least that we have seen).
• She walks on a leash without pulling. Even when other dogs have barked loudly at her, she really pays no attention to them. We have walked her morning and evening all week.
Now the challenges:
• We have been working diligently to socialize her every day with our neighbors, but she is still noticeably anxious when approaching anyone other than us. We work hard to get her in front to say hello and encourage her not to be afraid, but she still cowers and hunches over around strangers.
• She exhibited extreme panic when, after being taken outside, came back in and did not see me. She sprinted around the house looking for me until she was able to find me.
• She is very jumpy with loud noises or if someone comes up that she does not see in her peripheral vision. The only time she ever pulled on the leash was when someone came out of the shadows on a walk she did not see.
• She has not taken to a normal routine of eating yet. She is probably eating only 2 cups per day, which is, from what we understand, half of the amount she used to eat. We leave food for her to graze, but she has not eaten when we are not at home.
• It seems that she has been used to getting up very, very early. Two days, she awoke at 3:30am, insisting to go outside. After that, she continued to pace until we got up with our alarms a few hours later. She did not do that last night, but the timing has not been consistent.
She is an incredibly sweet, loving dog, but we are just not certain if we are the right family for her yet. A big test will be this weekend, when our kids come home from college for a visit, as we need to see if she is accepting of them. We would like to continue the fostering for one more week to see how it goes before we make a decision about adoption.
Amy and Dan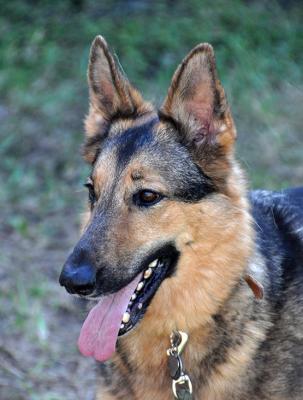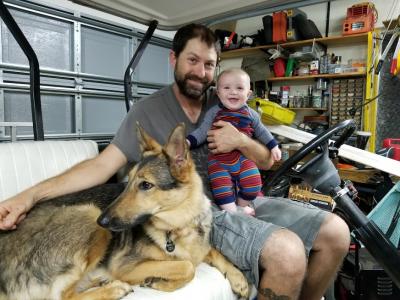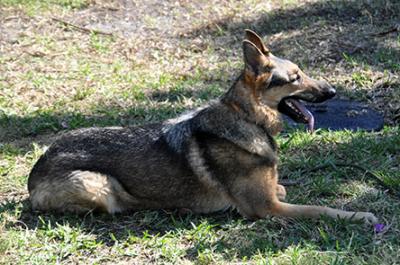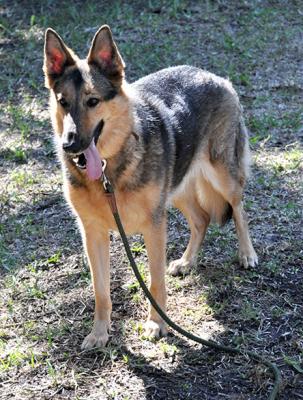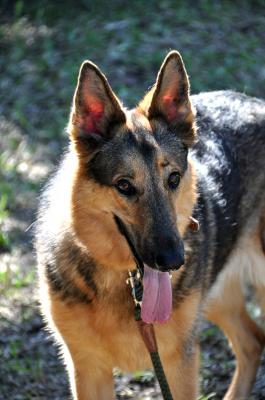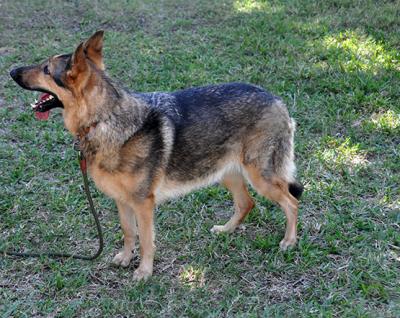 [image7_right] [image8_right]