ALLEY HAS A NEW FAMILY
Friday, January 03 2020 @ 04:16 pm EST
Contributed by: erik
Views: 424
SWEET PUPPY ALLEY HAS A NEW HOME AND FAMILY ALLEY first came into the rescue on the 30th of Dec... our last dog of the year became our newest for 2020. I called her Bunky at first because i had run out of names, that will happen when you have done 1200 dogs. My foster convinced me she looked like an Alley do here she is, puppy Alley.
She is an un-spade female GSD. She is between 9 months and a year but absolutely no more than that. She miraculously is heart worm neg and now has all shots and a chip. She will be spade as soon as her wounds heal more.
Alley was hit by a truck and sustained a broken pelvis and tons of lacerations and bruises. She spent 11 days at a vet's office where she was x-rayed and it was determined that she will heal from her encounter with the truck, but she needs 5-6 weeks of light duty to get totally better. She can walk and does get tired but is housebroken and pees and poops outside. She is being housed at a foster in North Port and she is being desensitized to other dogs. She seems a bit dog reactive because she had no training, but with some help she is becoming more social and accepting of dogs but seems to be a bit too much for cats. We recommend a no cat household now but hat can easily change because she is a puppy and will learn quickly with a good leader to accept all animals. We do know she has a fantastic temperament with all people. She is so sweet and welcoming when you meet her that you would think she knew you her entire life. She weighs about 50-55 pounds and she will grow for another 1.5 years. She is black and tan and otherwise healthy.
If you want to meet Alley please cal for an appointment.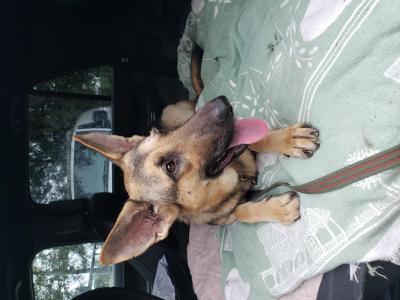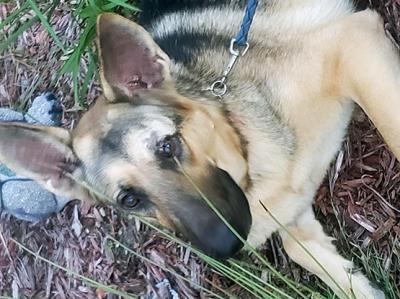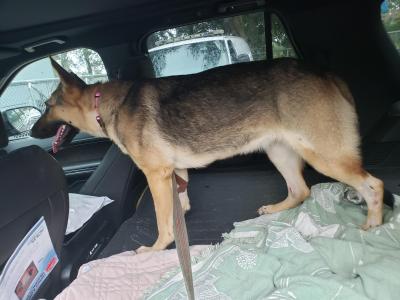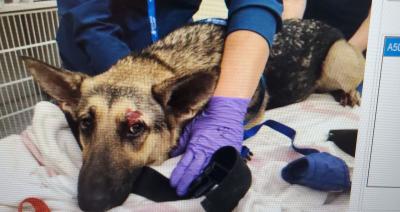 [image5_right] [image6_right]