PUPPY LUCY HAS A NEW FAMILY
Saturday, September 07 2019 @ 02:32 pm EDT
Contributed by: erik
Views: 453
PUPPY LUCY HAS A NEW FAMILY Last evening 9/6/19 I was called by one of our volunteers who recovered this dog in the drop zone near the entrance to the everglades. She was dumped there almost a week ago as this was her second sighting and the day she was recovered. This desolate road is a regular dumping ground for dogs and when we recovered her she was unchipped, no collar and no tags. We have brought her into the rescue and she will received a vet check and shots and a chip in the next day or so and then next week, after she is adopted, she will be spayed.
From what we know, Lucy is approximately 4 months old. She still has a few baby teeth but her size indicated her possible age. Her weight is about 35 pounds. She is primarily light tan with some gray in the background but she has no defined saddle, She has a lovely black muzzle and erect ears.
Her temperament seems quite good. Even though she was dumped and didn't eat for almost a week, she is still sweet and responsive to people. She remains untested with dogs, kids, cats, birds etc. As we get more information I will pass it along.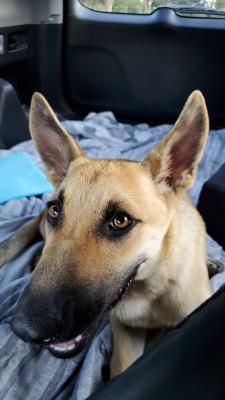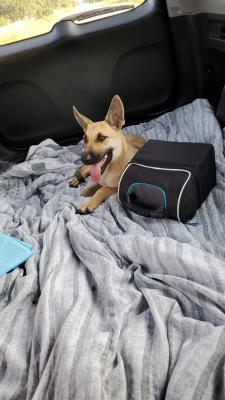 [image3_right] [image4_right]
[image5_right] [image6_right]
[image7_right] [image8_right]
[image9_right] [image10_right]