PUPPY PUMA HAS A NEW FOREVER HOME
Friday, January 04 2019 @ 05:12 pm EST
Contributed by:

erik

Views: 244
SWEET PUPPY PUMA HAS A SPECIAL NEW HOME AND FAMILY
WE HAVE A FAMILY LOOKING AT HER TODAY We got puppy PUMA in today from a local Animal Hospital. It seems the original owners were, we can say, less than stellar and were forced to relinquish her. She came in after being run over and had a severe break in her right rear leg and tail. She has had multiple surgeries and is now fine. The clinic was happy to have her re-homed through us as we have done this type of thing before with them.
Puppy PUMA is about 5 months old. She weighs 41 pounds and will be about 60 pounds when full grown. Her injuries have NO effect on her growth or ability to run and play and be a great pup. She is social with people and dogs and is heart worm free with all shots. She will be spayed in 2 weeks by the same clinic. She is untrained but pretty much house broken and extremely people and dog affectionate. She is being housed with 3 other dogs and will remain in foster for the next few weeks to get her use to life outside the hospital. She is black and tan with a fairly light saddle and a precious face. She has had no training but will get some expert\ training in foster. If interested the puppy rules apply for her which is a $500 deposit to insure she gets basic obedience training within 60 days of the adoption.
Her foster wrote:
Eric – I wrote up a summary for you on Puma. Please see below:
Puma is a sweet dog who is extremely well socialized around people and other dogs. She is a puppy who needs training, but she responds well to firm direction. She responds to sit and "Kennel Up" to go in her kennel. Kennel trained, she is going into her kennel on-command after one day; and did very well sleeping in her kennel overnight. She likes her kennel - Puma is an inquisitive puppy who needs to spend unsupervised time in a kennel, either overnight, or for short periods during the day. When in the house she currently needs to be on a leash. This has not stopped her energetic exploration of all things new.
She loves toys and has secured ALL the new toys purchased for both her and our other three dogs. I can only describe her spending time outside as joyful – she likes to run and play, particularly if there is another dog to play with. She is house trained, needing to go out about a half hour after she eats. She is eating Hills Puppy chow, 1 cup in the morning, 1 cup in the evening. Puma enjoys being petted and will show you her belly for a belly rub. She needs a firm hand with training, as her outlook towards life is "enthusiastic". She is not shy, barks if she thinks there is someone at the door and wants to be in the middle of all the action.
Very friendly and cuddly, this dog would do very well with another dog companion and with a family who has children.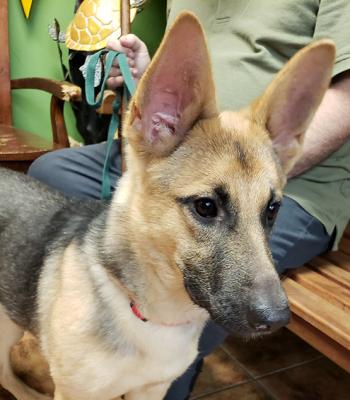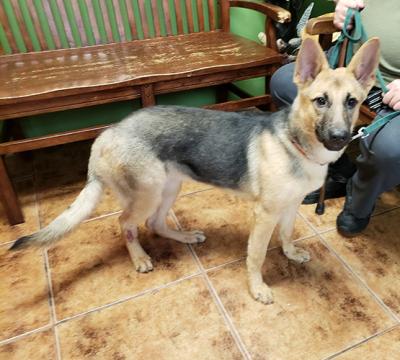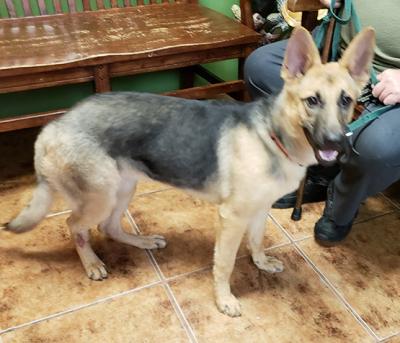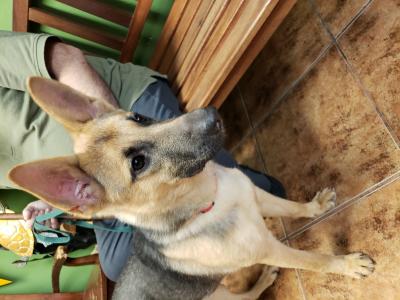 [image5_right] [image6_right]