CAMY HAS A NEW HOME AND FAMILY
Friday, November 30 2018 @ 02:27 pm EST
Contributed by:

erik

Views: 1,134
SWEET CAMY HAS A NEW HOME AND FAMILY
CAMY came to us today 11/30 and is safely in a foster in Port Charlotte. She has been evaluated by me and Sue Ann today and she is a sweetheart.
Her fosters assessment:
Dec.12, 2018
A lot of structure, discipline, exercise, and a little affection, have switched Camy's brain into true "dog" mode. Her fears have turned into healthy curiosity. Camy has finally integrated herself with our dogs, making a real 6-pack. She is following their lead on house rules and she is initiating play in the yard. She is no longer fearful when they accept her play bow invitation.
Camy "crates" with this command, and upon exiting, given a "wait", will not exit until you tell her "okay". She is still working on remaining quiet when we leave the house, but a Kong filled with kibble then sealed with peanut butter, is working wonders.
Camy has only had one full night of sleep without going out, but she has an urinary tract infection and is on antibiotics, so I can't say if it's her condition or a habit. She will whine when she needs out, goes and does her business, then back in crate til about 7 a.m.
Camy has no issues with meal time, although I do feed her in her crate. She has breakfast about 7:30 a.m, then final meal about 3:00 p.m. She does prefer a spoonful of plain yogurt or cottage cheese in her dry kibble. She takes treats ever so gently. Camy enjoys chewing a NylaBone on and off during the day, and is showing no aggression over the chew bones with the other dogs.
We use a prong collar for walking and she is a true pleasure to walk. Being very young, she still bumps into me a bit, just needs reminders to move over a little. We have passed all sorts of critters, no reaction to other dogs. A high interest in squirrels and birds but a quick collar check and a firm "leave it" and we just continue moving forward. We "wait" at stop signs, lights, etc., no trouble on a sidewalk near traffic.
She rides in the car ok, whines/barks for a few minutes then settles down. She needs to be tied in place or in a crate til she understands where you want her in your vehicle.
Camy does not care for cats. I would not recommend a home with a cat at this time, no matter how dog savvy your cat might be.
Camy is still a baby, just around a year old. You will need to have patience and a sense of humor as she still does puppy stuff, like eating Christmas tree ornaments, or stealing the newspaper from you, maybe pulling your socks out of the hamper, etc.
She is fully housebroken. She's only has 2 accidents, the first 2 nights we had her. At my house she can go in/out as needed, so I'm not sure what signal she'll give you.
Camy currently weighs 58 lbs and the vet just swooned over her, as does everyone she meets. She is a beautiful dog and has a very nice coat. She likes to be brushed. She rarely jumps on people now, no longer counter surfs, but can be a little mouthy with your hands or clothes when she gets excited. A firm "no" works, as she is not allowed to put her mouth on any human in our home.
Camy would make a great addition to almost any home. Please contact the rescue if you would like to meet her.
Camy is 8 months old and has fabulous markings.
She has Panda Shepherd coloration with a small blue dot in her left eye and a cool beard of tan fur below her chin. It looks like a Quaker Beard. No clue what the blue dot is, but it has no obvious issue with her sight. She has all shots, HW Neg (thankfully) and spayed. She is 8 months old and weighs about 50 pounds. She is due to be more critically evaluated in the days to come when I can write a more up to date description, but for now she is letter perfect calm and sweet.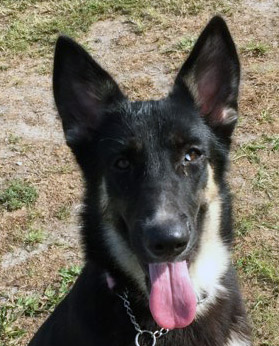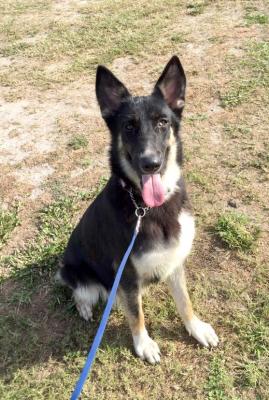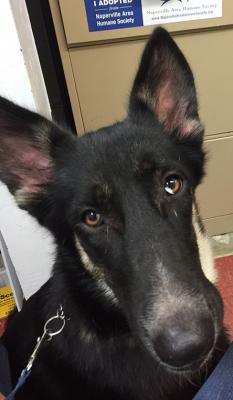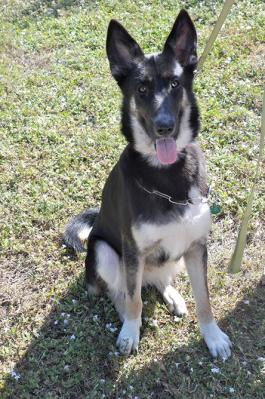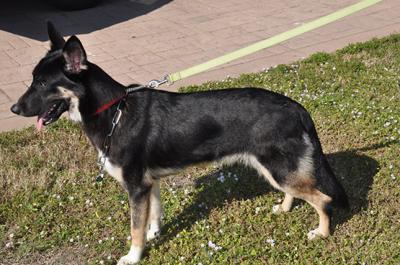 [image6_right]