JACK HAS A NEW HOME
Monday, August 27 2018 @ 05:05 pm EDT
Contributed by:

erik

Views: 566
HANDSOME JACK HAS A NEW FAMILY
His Fosters wrote:
Jax, a 2 year 8-month old male is a very large (95+ pounds), handsome, very sweet GSD. He came to us as his owner was too ill to care for him. He bonds quickly with people – it was almost immediate with my husband and myself – is extremely social, open to new experiences and friendly when friends come over. Well behaved, he needs only a small amount of correction on a leash. He is very strong and we have him on a pinch collar when he is off our property.
This dog needs to be active. I had just signed him up for agility training which I believe he is very well suited for and would really enjoy. He will also benefit from obedience training to reinforce what he already knows and ensure that he is an excellent GSD ambassador. He enjoys rides and fortunately is just too large to make it from the back to the front seat, in case we need help with directions. He loves running in circles around our pool and being in the yard (he needs to be watched outside as he gets hot relatively quickly).
Jaxe is a hardy eater and needs to be walked almost immediately after eating. Jax is kennel-trained, goes into his kennel on the command "Home" and knows his name. He also clearly knows "sit" and "stay". He initially slept in his kennel but within a few days we were able to leave him loose in our house, preferring to kennel him only when we were not home. Within 2 days of having him in our house he alerted on contractors working on a house next door to us and wanted us to make sure we knew there were interlopers about. Jax is a smart, very curious boy who likes to help (cooking, he's underfoot; cleaning he's helping steer the mop). He likes toys, particularly ones that squeak and enjoys playing catch. Jax is unaware that he is large. He would love to sleep in your bed – if you have king-sized bunk beds this is a fine idea, loves to be cuddled and attempts escorting the family and guests alike to the bathroom. If your bath or powder room is small, good luck squeezing in the room.
Jax will benefit from a loving home with owners who will keep him very active and be very consistent in managing him. We have not seen him interact with children, although my sense is he would be absolutely fine with them. He is extremely smart and a true pleasure to be with. No idea how he is around cats, but we believe Jax will be most comfortable as an only dog. He returns the attention and love he receives a thousand fold and deserves a wonderful life
Beryl A.
Hey Eric:
Thanks again for understanding how difficult a decision this has been. Jax (aka Jack) is a very sweet boy who needs and deserves a lot of individual attention. The best way to describe him is he's a 90+ lb 'puppy' who has a lot of puppy energy yet to be burned off (even though he's 3 yrs old). Our experience with him has been bitter sweet in that he's incredibly loving, but most definitely needs a female to attach himself to. Ideally this person would be retired so she could devote the time he requires. For instance, he never showed any desire to spend time with anyone other than me, including my husband. This made it difficult for me to do anything without him wanting my undivided attention. He got along great with our senior German shepherd, but the cats were a different story. We are convinced that Jax does NOT have an aggressive bone in his body, however, his big size and energy level, combined with his curiosity, made it difficult for our 3 kitties to endure. Crate training – he was unhappy being crated the first few nights (my husband slept on the sofa in the family room so Jax could be free, while allowing me to sleep and the cats some freedom). However, after about the 5th night, he started to accept the idea of being crated. This shows us that he can and no doubt will adapt if given time and patience to do so.
He walks great on a leash, with and without another dog beside him. He seems very social (he's been to the tiki already). He rides well in the car but prefers to be in the back seat to be closer to the humans. He appears to be house broken as we had no issues. However, he doesn't seem to know how to communicate when he needs to go out.
Attached are some photos of Jax, and one with Charlotte, should you care to use them. I would also be happy to speak with anyone who may want to ask about further about Jax, to assist in finding him the ideal home.
Thank you for the opportunity.
Gail and Gordon
Jack gained his notoriety with the rescue by being flown in from a friend in NJ. He was relinquished by his owner who could no longer care for him due to a medical condition.
Jack was bred by a friend of ours (AlKara Kennels) a very prestigious GSD Breeder in NJ.
Jack came here to our home and was on trial for a few weeks. Things didn't work out because one of my pack and he didn't see eye to eye. Never a fight, not even close, but there was friction which is not tolerated in my pack for obvious reasons. He showed himself to be cat friendly, dog friendly super people affectionate to mention a few of his great traits. His biggest shortfall was his need to be number one so we suggest a one dog household for him. Being another number one is just not practical in a pack as large as mine and because I could not give him the 100% attention he needed we fostered him out to some friends to see what his traits would be in a smaller pack (of 2). He was adopted out to another family with 4 dogs and the same thin happened. Jack liked 3 but not one of them and he was returned before there was more friction.
Again he is extremely friendly, attentive, people and dog affectionate and cat friendly. The foster family decided they would return him and he has come back to us.
Jack is 3. He is healthy, HW Neg, extremely handsome and engaged with all shots and a chip. He is a high drive dog that needs his energy channeled by a family where hopefully he would be the only dog or a max of one other. He bonds quickly and is very loyal. He is a red and black neutered male weighing in at about 90 pounds. He is sloped in back because that is the way he was bred.
He has a fabulous coat and a calm temperament and even disposition.
We seek a family who would love this boy as much as we did and as much as his first owner did but with no other dogs. He is great with kids as well and would be a fabulous companion for anyone.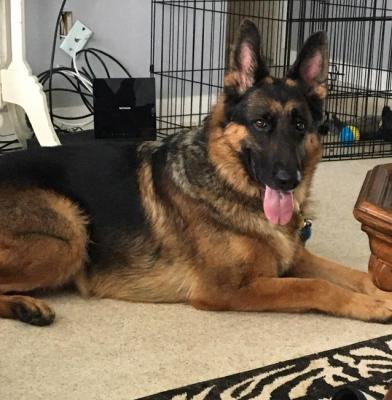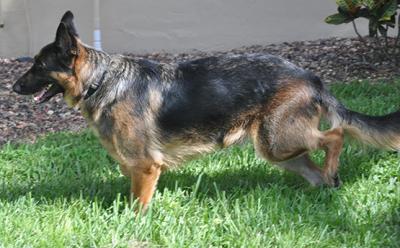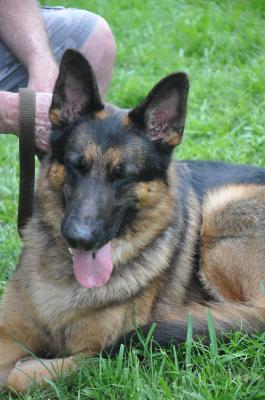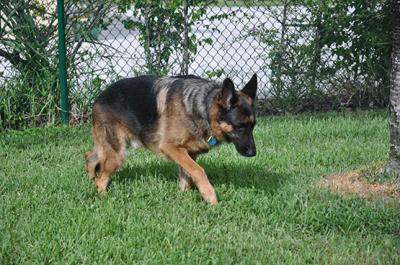 [image6_right]
[image7_right] [image8_right]