CANE HAS A NEW FAMILY
Friday, August 17 2018 @ 03:36 pm EDT
Contributed by:

erik

Views: 800
CANE NEEDS A NEW HOME AND FAMILY
update: CANE IS IN A HOME FOR A FOSTER TO ADOPT
We had placed him into a family but he was just too much dog for them. He is a young and energetic dog who is in need of a strong leader and TRAINING. I spent an hours with him and John B our trainer has spent a few days with him and we find him to be a sweet affectionate dog who needs training and a strong leader but who is extremely eager to please, treat motivated, works on problems well and would be a great agility dog. He is a great looking strong dog who has the drive to accomplish most any task. He likes kids and accepts other dogs after a proper intro. He is currently being trained by his foster in Englewood. The dog's name is Cane. He was left in a vacant home and taken in by the person sent to repair some things there. He was unable to keep him and turned him into the shelter who called us back in August. This happened 8/17 and we wanted to react as quickly as practical, but without a place for him he was placed there.
Cane was adopted by a family who cared for him for a little over a month. They did not do the training they committed to but even without it he has come a long way. He proved to be way too much dog for the wife, but was fine with the husband. We see that with a bit of training and an alpha person at the end of the leash, he's a great dog. He does require a strong leaver and a lot of training. He is housebroken and responsive inside and he no longer pulls a bit when on a leash. That is easily corrected. He is dog friendly to bigger dogs and non-aggressive smaller dogs. Cane is about 1-1.5 years old. He is not a large dog but powerful at about 65-75 pounds. He is now neutered and he was HW POS, but because of his very light positive he is being treated at the slow kill method so as to avoid shots and a protracted recovery period. We gave him his shots and neuter and chip already. He is being housed in a foster in Englewood and is available to be seen most any time with an appointment. Cane is active and has had little or no training. He now heals extremely well, takes treats softly, sits on command, shakes hands, downs with a treat and is really affectionate. He also has masted leash walking and stay. He is social, but was a bit reactive in the kennel with dogs passing by. My assessment is that once he is in a home he will settle down considerably and once neutered and training begins he will come around. He is mostly black, handsome and engaged. He will need a strong owner who has the time and experience to deal with an untrained young dog.
He needs a job and would be great at agility.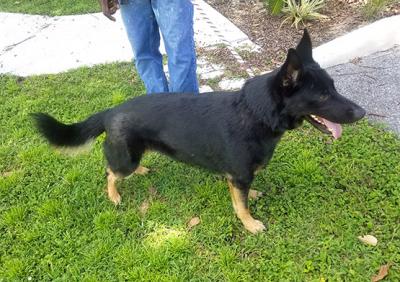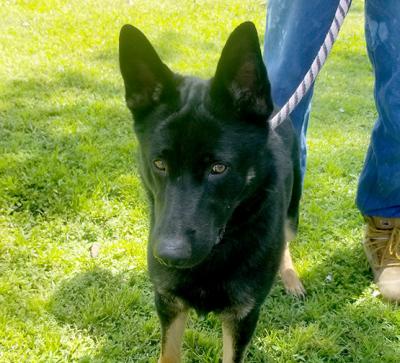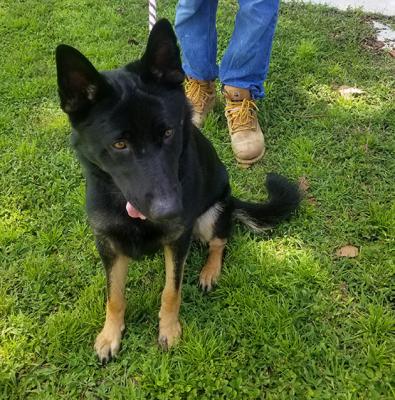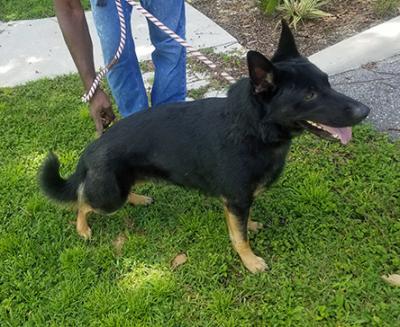 [image5_right] [image6_right]