LUNA LADY HAS A NEW FAMILY
Monday, June 04 2018 @ 04:39 pm EDT
Contributed by:

erik

Views: 606
LUNA LADY HAS A NEW HOME AND FAMILY We received a call today 6/4/18 that a dog we had adopted out to a family in 2016 from St Pete is coming back to our rescue. Luna1 is about 8 years old. When she was adopted out originally she was supposedly 9 years old, according to a miscalculation from the shelter vet, so her records are absolutely wrong in that area. We determined she was really about 5-6 and now she is about 7-8 as she was adopted out 2 years ago. She is a bit pudgy but in excellent health and gorgeous. She does love to walk, but her owners have had serious health issues which limited their ability to care for her. The mother broke her wrist and dad can't get around due to some illness. Her kids chose not to be involved with her care, so the dog looses and is coming back to us. We will always take a dog back that we adopted out. In this case she is a sweet calm senior dog who is still very much engaged and affectionate. She has been well cared for and really loved, but she is now in a position that she needs to be re-homed. She is HW Neg, up to date on shots, has good hips and very little signs of age. She is trained, housebroken, healthy and likes people. She is NOT good with cats and does not like little dogs. She is being fostered with a pack of 6 dogs all GSD's. She is reported to be good with larger calm dogs, so she is in the right foster home.
Luna1 will make a fabulous companion dog. She will love you and protect you and your family and surely deserves a great home. Because she has been so well cared for she will quickly and seamlessly fit into your home. She will be at our event on Sunday in Punta Gorda.
Luna1's Mom wrote:
Luna is a remarkable dog . Very classy and well mannered . She will not touch the food until eye contact she alwyas waits for that "ok" . After she is done eating she comes and touches you with her nose to say "thank you" it's amazing bc nobody never tought her that .She is very humble and will never jump on you. She is a low energy dog that loves her routine . If something is being reapeted 2 she already knows thats the routine . Like almost she knows the clock.
She loves peace and quiet . Sleeps most of the day. She enjoys car rides (loves it) She needs to be on grain free food and loves her gravy on it (soft food) Luna loves her bad (cot) soft blanket or towel she loves it . She does not care for toys or balls. She just like walking and sleeping or simply enjoying outdoorswhen is cooler outside (evenning)
It is very important that who ever grooms her i never allow to touch her rare .Even at the vet when they checked her fever she is very sensitive about it ,so no one should ever touch her for any comsetic purposes like (groomers do). She does not like penut butter and loves bacon flavor. She loves cooked vegetables is her favorite comfort food. (incase if she is nervous and looses her apetite) .The new owner should know that she has very sensitive skin and the best would be shampoo from the vet but it get very expensive so any mil oatmeal posibly fragrance free shampoo i think would work.I believe she is more friendly towards women then man but she loves both of us. Before we adopted her i think Mr. Hoffer said she lived with her brother Ralphy and older lady . Her back legs are kind of week . She can"y get to an suv car on her own she needs back support . I don't think she got a lot of exercises growing up . She does prefer indoors then being outside even if its just a backyard . She does not enjoy bath runs away from water and does not like if the grass is long . She won't go on it.
She is a real lady dog .Very loving . It's heart breaking ...
OUR OBSERVATIONS:
She bonds quickly, she may not be the best for kids as she does a bit of people guarding which can be great in some situations and not so good in others. She is good with other dogs and people and yet is quite possessive of her person. She is a gentle soul that is a perfect lady, house broken trained obedient and easy to live with.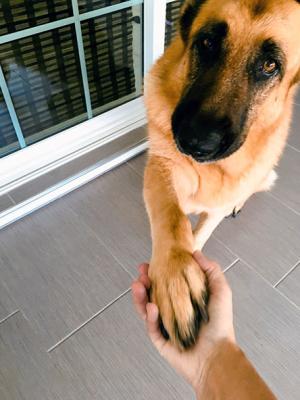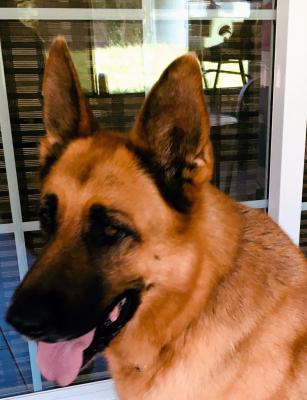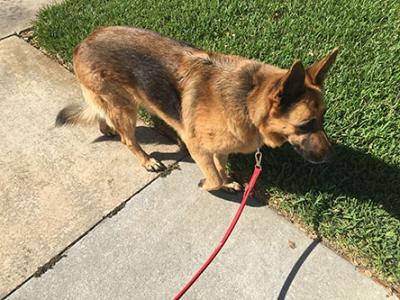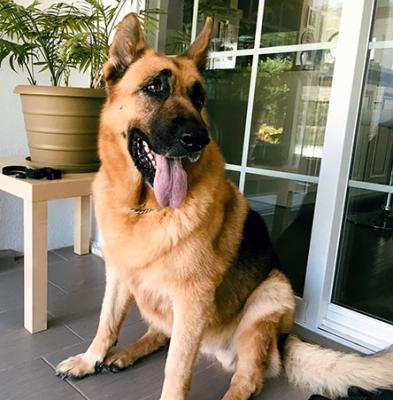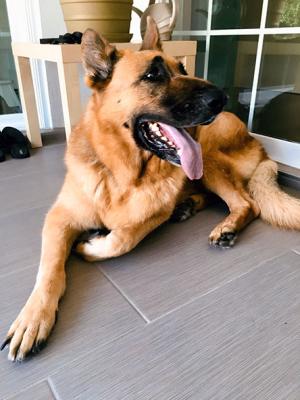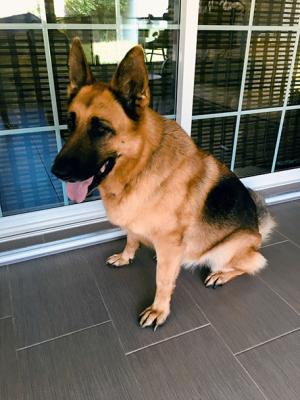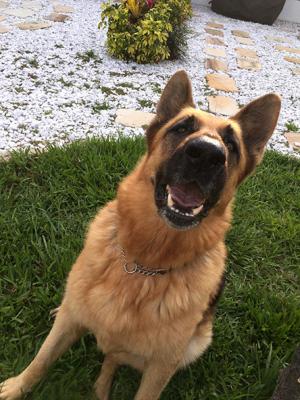 [image8_right]