SAM HAS A HOME
Saturday, November 04 2017 @ 06:20 pm EDT
Contributed by:

erik

Views: 611
SAM HAS A NEW HOME AND FAMILY I must admit i don't know much about Sam as Diane did the evaluation today in Lee County DAS. What i do know is that Diane is really good at picking them and I am sure Sam is no exception.
Sam is a 75 pound (15 pounds underweight) black and tan, neutered male GSD. He has all shots and he is HW Neg which is a plus. He was a street stray and now is off hold in the system and available for adoption. He will arrive Tuesday afternoon and be fostered in either Ft Myers of Cape Coral based on site availability. He is a bit aloof at first but does warm up. He was non-reactive to other dogs in the kennel area but did not like being crated, so that will have to be on the learning agenda for a prospective adopter. He was probably an inside dog and probably housebroken but yet untested. Sam seems to be in good condition besides his being underweight. he has a bit of dry skin on his butt but that is normal when they don't eat regularly. Skin issues are easily cleared up with proper nutrition and medications if needed, but they rarely are. A bit of coconut oil and good food will have him humming in a weeks time.
If Sam is a dog that you feel you would want to bring into your family, please call for an appointment to see him. More pictures on Tuesday when I pick him up.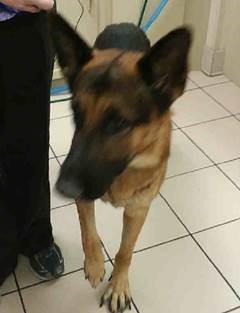 [image2_right]
[image3_right] [image4_right]
[image5_right] [image6_right]
[image7_right] [image8_right]