FABULOUS KAISER HAS A NEW HOME AND FAMILY
Friday, June 09 2017 @ 04:40 pm EDT
Contributed by:

erik

Views: 842
FABULOUS KAISER AKA FRED HAS A NEW HOME AND FAMILY Fred WHO IS NOW KAISER was dumped out near the Everglades by some idiot. He is a simply tremendous dog. He loves people and other dogs and he is calm and eager to please you. We have not had him long enough to know much more about his personality but the foster who did have him for a week told us that he was great with her dogs and kids and we can easily see how good he has been here with me.
Kaiser can possibly have something else in him but for my money he is a GSD, semi long hair with super duper fuzzy ears and a soft calm temperament to match. Fred likes car rides and he has done quite well here meeting my pack. He did not get at all excited when approached by my 8, so he seems extremely stable and calm. He definitely lived in a home because he climbs stairs, comes to you when you extend your hand and, although he seems not to sit on any command, he dies take treats softly, walks super on a lead and he is responsive to kindness and a gentle approach. he will be getting shots and a neuter on 6/11 at Gulf Coast and will be available for adoption shortly thereafter. Because of the logistic issue with us being away, arrangements will have to be made by email with me and then once your application is received, an interview and meet and greet can be arranged.
Kaiser's details are that he is black and silver, 85 pounds, normal hips and fur and basically an easy dog. We have learned he is far too interested in cats so he is a NO CAT dog. That may change when he gets use to the cats but for now, no cats is recommended. He may have some husky in him but his face is GSD and his body is GSD, his tail may have some husky curve in there but from my prospective, if it looks like a duck and quacks, it's a duck. Wth Fred he has every GSD trait we know of in so far a facial and body elements and temperament and confidence are concerned.
THE FOSTER WROTE THE FOLLOWING AFTER HAVING HIM IN HER HOME WITH HER PACK:
Hi Erik,
For however long Fred is with us we're going to call him Kaiser (means emperor). We think he needs a big, strong name. The more I watch him the more I wonder if maybe there's a bit of Akita in him. He's got this incredible prance.
I don't know if I'd recommend a house with cats, we're lucky to own a very dog savvy cat, but even so, we've had to do our due diligence with him.
He's a little mouthy, not mean, but herding like, in trying to entice the dogs, cat or us, to play with him. It happens when he's excited.
Kaiser is VERY responsive to voice, both positive and negative. He's an awesome dog and will make a very cool pet for anyone that doesn't care that he's not a full GS.
Oh, he's also great in the car. He's an easy dog, has followed the lead of all our others. He slept on the floor of our bedroom last night, let him out about 6:30 this morning and he ate a full meal. We are happy to keep him while you are gone if you don't have interest before then.
Just wanted to update you. If we don't hear from you, have a fantastic trip!
Sue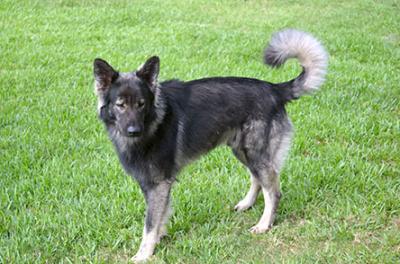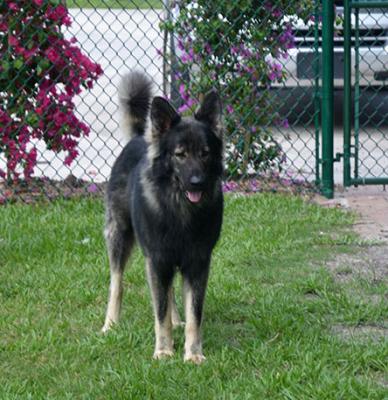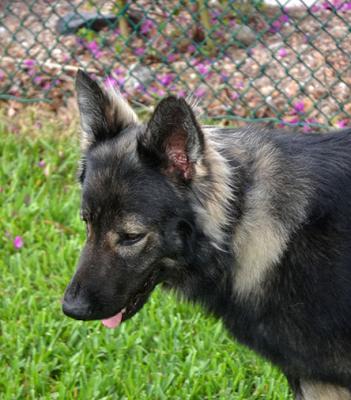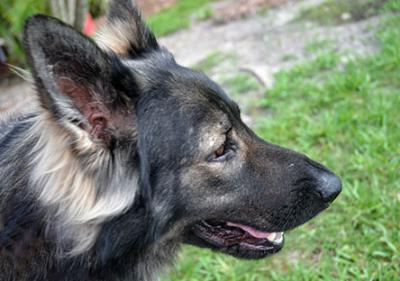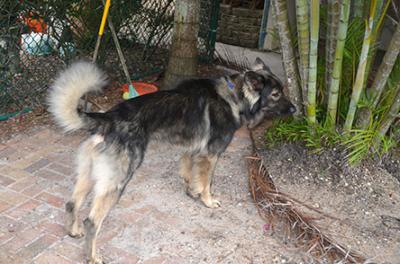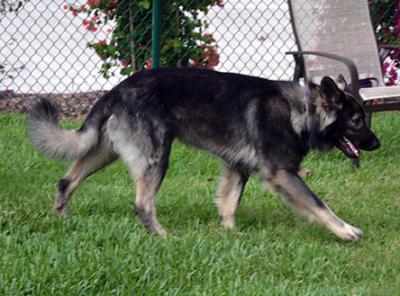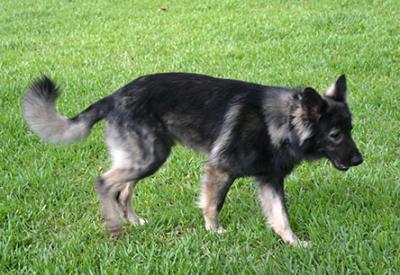 [image8_right]
[image9_right] [image10_right]