BARON HAS A NEW FAMILY
Wednesday, October 08 2014 @ 03:46 pm UTC
Contributed by: erik
Views: 1,439
BARON NEEDS A NEW HOME AND FAMILY Baron is an absolutely gorgeous white male GSD. His mom wrote this story about him for anyone considering him as their new best friend. She truly loves the dog and due to an unforeseen serious illness must re-home him:
Baron was three years on September 22nd this year. His father was all black and very tall, but his mother was white with beige shading along the back and ears. He weighs close to 80 lbs. now. He is very protective of his owner(s). He likes to walk and has always been walked on a leash and not allowed to run loose in our community. He loves a back yard that is fenced and will stay out for hours when I'm also out there doing landscape work. If you go inside, he wants to be inside with you. He's okay for a while outside by himself, but not for hours by himself. Baron is an active 3 year old dog who needs plenty of exercise. He has a distinctive high-pitched bark to get your attention. He is an inside dog and doesn't need to be in a crate. He doesn't chew on furniture, but loves chasing balls or rope twists.
He eats twice a day, breakfast and dinner. He has always eaten Blue Wilderness dry food sometimes mixed with canned dog food, approximately 2 cups each serving, and he loves Milk-Bone medium dog bones.
He's good with family members, but because he's fast and on the large size, could inadvertently knock over smaller children and watch his tail as it can clear the surface of a table or feel like a whip against your arm or leg. He's strong and very fast. He attracts all kinds of loose dogs, but has never started a fight with another dog, usually they are the ones being aggressive.
Baron lived with a full grown black and tan shepherd and he's also good with my son's mini-Doberman and mini-daschund.
I've taken him to Park Avenue Pet Hospital in Apopka and Dr. John has been very good in treating him.
Don't trim his nails yourself
Baron will be here at the rescue on Saturday 10/11/2014 at about 3PM so if you have an interest in this super dog, please call us for an appointment at that time so you can meet him right away. Please call us at 941 575 0243 to set up that appointment.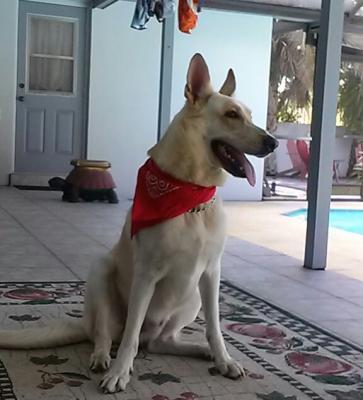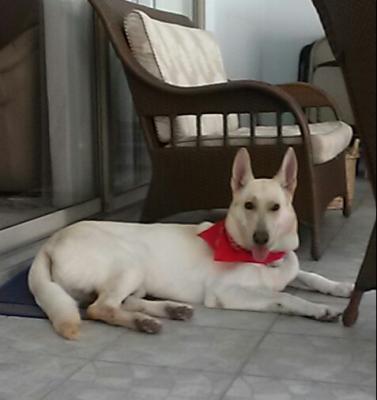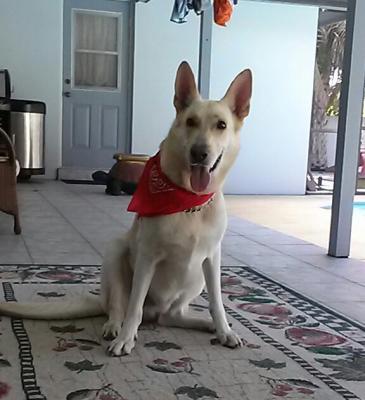 [image4_left]
[image5_left] [image6_left]
[image7_left] [image8_left]