MOSES HAS A NEW HOME
Friday, September 12 2014 @ 01:12 am UTC
Contributed by: erik
Views: 1,653
MOSES NEEDS A NEW HOME AND FAMILY
WE HAVE A FAMILY COMING TO SEE HIM TOMORROW SO FOR THE TIME BEING HE IS SPOKEN FOR. MOSES WANTS A FAMILY WITH CHILDREN!
Moses is an approximately 2.5 year old silver and black classic male German shepherd. He has all of his shots, he is neutered and he has been micro chipped. He was found wandering in Hillsborough County in December 2012 and adopted by a family in January 2013. He was approximately 9 months old at the time, suffering from malnutrition, pneumonia and heartworm.
He was immediately treated for the pneumonia followed by heartworm treatment. His last blood panel in January of 2014 showed that the heartworm had been eradicated. His year-long road to recovery was very difficult and he now has a clean bill of health. He is in the 70 lb. range – a bit small most likely due to his malnutrition and heartworm at such a young age. He is partially trained in obedience, house broken, great with kids, not destructive and dog friendly. We have seen him with birds and we recommend that he not be placed with cats or birds.
He is an exceptionally smart, loving and friendly dog. He enjoys children of all ages. His interaction with other dogs is usually tail wagging but he is an alpha and does not like other dogs in his face, regardless of size, if they try to control him. He is calm when he meets you and warms up quickly. He does have an inherent fear of thunder but having seen him in that situation, i personally feel it is no big deal at all.
He is housebroken and has only been on a leash due to his days of wanderlust. He was never crated and I believe would readily take to that. He knows his name, will sit and partially stay. He needs to go into a basic class asap. He does have an extreme prey drive, again due to his days of having to be self-sufficient. He is seeking a new home due to his desire to eat the parrots in his present home. He has never hurt an animal or bird but because of his desire to catch up with them he needs to find new digs. He is very loved, but very aggressive with small animals. No birds, bunnies, gerbils, hamsters etc. would be safe around him. We have not determined his feelings towards cats.
He has some shepherd quirks…afraid of storms and fireworks, resistant to showers, won't get in a pool, but will go into the ocean reluctantly and seems to enjoy it once he is in!
He loves his nasty, dirty chicken toy and will play ball with you or on his own! He loves small kids and can't get enough attention.
Moses has many years of love and affection to give and hopes you will be his forever family!
If Moses seems right for you, please call us to meet him at 941 575 0243.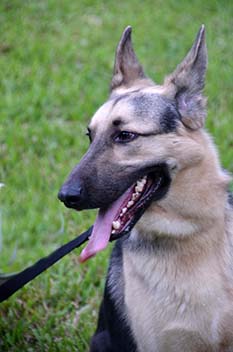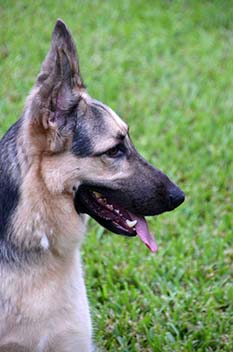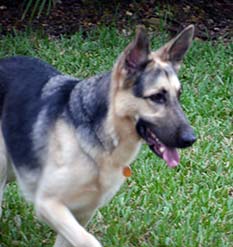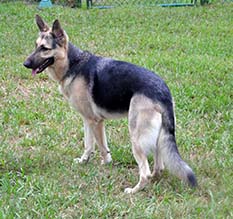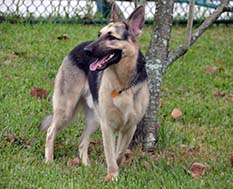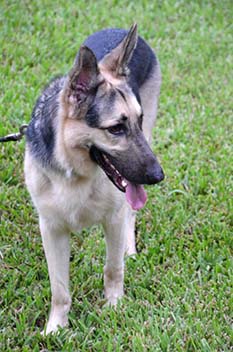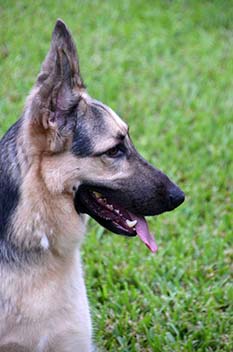 [image8_left]