GAUCHO HAS A FOREVER HOME
Friday, June 27 2014 @ 03:51 pm UTC
Contributed by: erik
Views: 1,790
GAUCHO HAS A HOME...
This is one super dog!
Gaucho is a 3.5 year old Sable male GSD. He is neutered. He is heart worm positive and will be treated near the end of the month.
He will be treated for his HW on 8/22 or there about in Naples and that will mean that after we treat him he will need 4-5 weeks of almost no activity. We will also place him on a medical protocol that helps destroy the worms in his system for 30 days prior and post shots. He will need to be in the house and possibly crated during that time... after which he is good to go and will live a long healthy life.
Diane and I had given a tremendous amount of thought to keeping Gaucho as our own. He lived with us for 6 weeks and he was just fantastic with us, our 6 dogs and 4 cats. He is truly a sweet dog with every great quality imaginable. He loves people, kids, dogs and cats and is really the perfect pet. He plays with toys and just leaned to swim. He has a great personality and just wants so to be loved. There is just so much we can do with our own dogs and after really soul searching about him we have decided that if we can find a great home that we would let him go. He deserves the be the focal point of attention and here he would be one of 7 dogs and 4 cats where it is just not possible to give him to one on one attention he deserves.
We know that Gaucho is a super calm friendly dog that was turned in by his owner. He was a house dog and we know that he is pretty much housebroken. To get that to 100% will take a few weeks but is no big deal. In the mean time he needs to be kept quiet and calm to avoid having complications with the HW... and since he loves his create, that makes it easy. Because he loves his crate we are also able to control house breaking and keeping him from panting. He is good with people and other dogs and has nothing but love to give. We do know he has some hip issues, which are typical and common in most GSD's but he runs and plays, swims and cuddles with no apparent problem in that area. From what we see his issues are OK for now, but as dogs age, especially GSD's they can have hip issues... most can be addressed by some pain meds and become totally manageable.
Gaucho is living here in our home with our pack. If you wish to see him please make an appointment asap. He is trained and affectionate, mentally engaged and will bond very quickly,
I have had him for 6 weeks and he is fantastic. He is calm, loving, obedient and velcro. He is really one of the best looking and best temperament dogs we have ever had.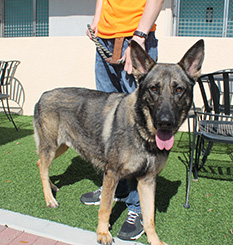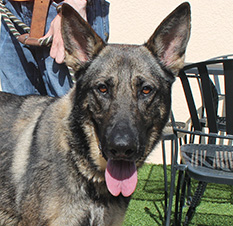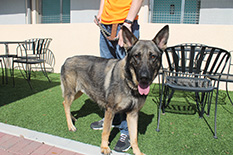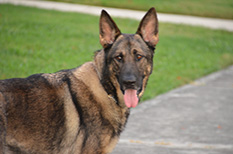 [image6_left]