PUPPY HAS A HOME
Friday, May 09 2014 @ 05:55 pm UTC
Contributed by: erik
Views: 1,702
PUPPY LOLA NEEDS A LOVING HOME
UPDATE: I AM EXCITED TO REPORT THAT EVEN THROUGH MY PERSONAL BROKEN HEART, LOLA WENT TO A GREAT FAMILY WHO WILL LOVE AND CARE FOR HER. We got puppy Lola in this morning. She was a street stray and is just the sweetest most gentle girl you can imagine. She MET THE 7 BOYS AND GIRLS IN MY PACK AND LOVED THEM ALL AND THEY LOVED HER. She is going to be spade on the 26th of May so anyone getting her will have to bring her back for that operation to AWL in Port Charlotte.
Since she is a puppy she will require a star puppy class and at least a basic class, paid for at the time of adoption ($165.00 each) She will also require a $500 bond that the person will return her here for her spay.
Lola is primarily brown with a subtle black area on her tail and back. Her ears have not come up as yet but they are trying. She has no saddle but a great face mask and nice markings are forming on her back. She is too young for her ears to be up but the fact is they may never come up fully. She is really cute and she is going to be a BIG girl. She is about 50 pounds now and with her big dog feet, she will probably be 85 pounds. She is not at all trained but does know sit and down for rubs. She is not fully housebroken but we will find that out in a few days time. Well she does know how to pee and poo outside but of course she does not have house privileges as yet. This morning she learned the doggy door and chose a favorite spot to pee in.
She is super with our dogs and is disinterested in our casts so she will remain here at the house until adopted. Lola learned to swim yesterday and like to lay on the raft. She took to the water like a fish. THIS IS ONE SWEET TERRIFIC DOG. If you are looking for a pup give me a call at 941 575 0243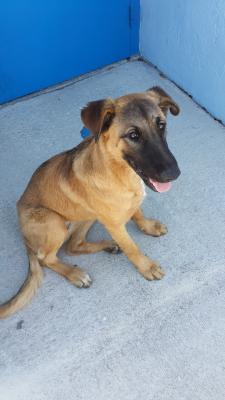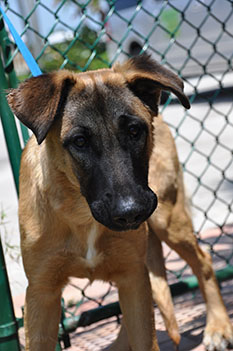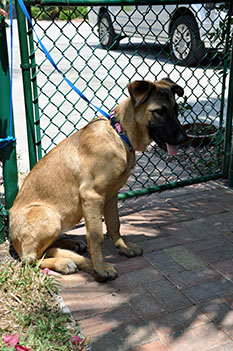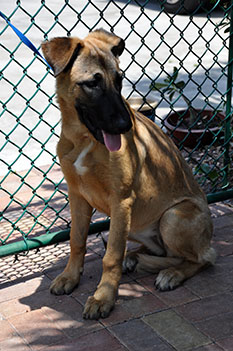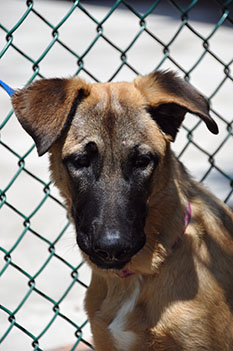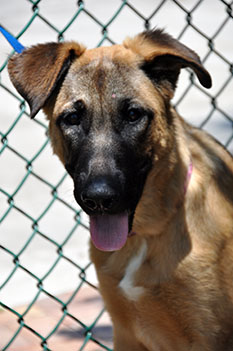 image7