SOPHIE STAYED HOME
Monday, May 05 2014 @ 03:03 pm UTC
Contributed by: erik
Views: 1,407
WE HAVE A DOG NAMED SOPHIE COMING IN FOR AN EVALUATION. SHE IS NOT IN RESCUE AS YET BUT WILL BE HERE SHORTLY.
SOPHIE REMAINED AT HOME. We have not met Sophie as yet and cannot tell for sure what her temperament will be like. She seems like a sweet dog from what we are told but nothing is firm until we meet the dog and do the assessments ourselves. I am putting this up on the net in the hopes that if people see her that they will call us and have a chance to meet her in the next week when she comes in.
He mom wrote this about her:
Sophie the German shepherd is 4 years old, spayed, has had puppies, is great with children and dogs and enjoys laying in bed with you. Shes a sweet heart with a sad and hopeful face. She loves air biting like shes trying to catch a fly and likes to hide her face in your lap. Shes afraid of birds so she'll hide behind you. She alerts when there is a knock on the door and will bark to let you know it. Shes potty trained, doesn't chew on things and has never had an accident in the house. You can leave her alone without any worry. She sometimes gets burst of energy where she'll want to go outside just to play but most of the time she enjoys laying by your side on the bed. She has no known medical conditions and I'll get her heart worm tested. Sometimes she likes to lay on her back and hold her paws up. Over all shes a sweet heart who deserves a kind loving family who will love her unconditionally. Also if you play a video of a kitten or a puppy crying she'll do a couple of head tilts and try to find where they're coming from. She likes to do affectionate nips on other dogs where she'll nip and groom them and sometimes she'll do it to you so just be careful cause her front teeth pinch but she doesn't do it out of aggression nor does she growl when she does it. Shes is food aggressive with other dogs but not people so any owner, with multiple dogs must feed her in a crate until you establish rules. When you give her a stern yell or correction and she'll be submissive and listen. She only knows how to sit and come when called unless there's a cat then she'll want to see if she can smell it. She has been known to run away off lead so any new owner must train her.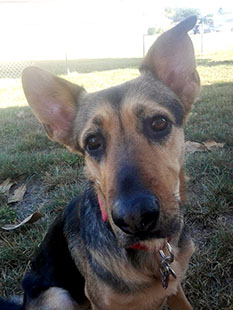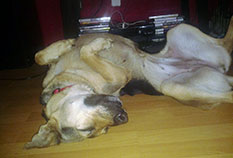 [image3_left]