RAVEN IS STAYING IN HER HOME
Monday, March 03 2014 @ 04:23 pm UTC
Contributed by: erik
Views: 1,539
BEAUTIFUL RAVEN NEEDS A NEW HOME
UPDATE: RAVEN'S MOM AND DAD HAVE DECIDED TO GIVE HER MORE TIME AT HOME. Raven came to us today, and we were WOW'ed when we met her. She is a super friendly and playful female sable GSD., She is spade, HW negative and up to date on all shots... drive off the lot perfect. Raven loves to play ball and is totally engaged with people and other dogs. She is outwardly friendly with everyone. She is trained, housebroken and ready to be in her new home. Raven weighs about 65 pounds and is 5 years old. She was purchased from a breeder at 8 weeks and she has been in the same loving home since that time. She frequently goes to doggy day care and has no physical issues.
Raven is being relinquished because she has not been able to adapt to her mom's work schedule. She use to get mom all the time, but now that she is workng 12 hours a day, Raven just can't accept the fact that mom is not around like she use to be. Raven never has accidents in the house and can hold it for 12 hrs until mom gets home, but in recent months she has been acting out by chewing things. She is crate trained and willingly goes in there at night or during the day, but since she started chewing stuff, mom put her in the crate during her absence and Raven had repeatedly tried to break out. This stress is the basis of her loving mom deciding to relinquish Raven to a family that can spend more time with her. She is an active but truly obedient dog that needs continual stimulation or the company of another dog during the day to be content. This is one fine dog, sweet loving and wins you over in a minute! She really needs a new home where the family is home most of the time. We truly recommend that she go to a family with fun kids because she needs that type of family to be happy. We do not recommend that she go to as family with cats as she does have a prey drive and we do not feel that the new owner should have cats.
If this tremendous dog fits your lifestyle and family, please consider her, you will not be sorry.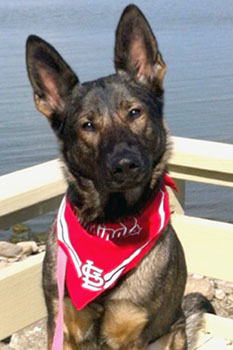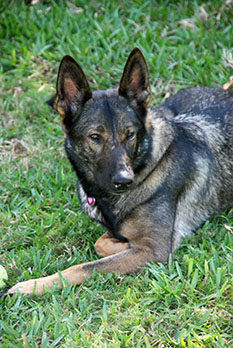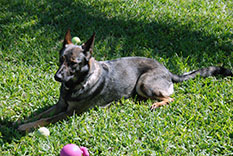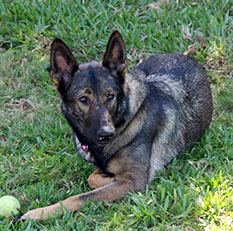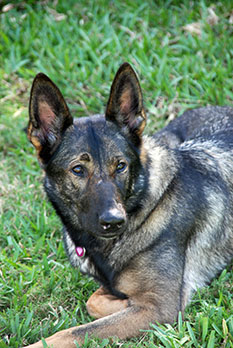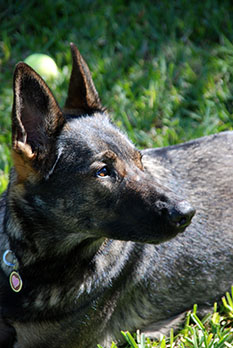 [image7_left]