SADIE HAS A FOREVER HOME
Friday, February 28 2014 @ 10:43 pm UTC
Contributed by: erik
Views: 2,203
BEAUTIFUL SADIE WAS ADOPTED TODAY Sadie is a sweet female SABLE GSD, She is about 65#'s and in great physical shape. Sadie appears to be 2-3 years old and has boundless energy. Her ability to learn is superb and she needs to please as part of her personality. Up until she came here 3/6/14 she lived with 2 very small boys, 1 and 4 years old. She loved the kids and yet we recommend that the home she goes to have only older kids. When the babies cry and scream she gets very anxious and runs and hides. Her owner feels this stressful environment is not good for her and that she should be in a home without this form of stimulation. She is truly sweet and never gets aggressive with the kids or at home. She does not like to be confined in her crate in a car when the kids cry and scream but she is fine with it when things are going well. She is housebroken and not at all destructive, however when there is stress she wants out and will hide in a closet. She seeks out human affection and is totally handleable by anyone She is not at all fearful and she was never hit or beaten. She was surely loved before she was originally dumped. Sadie was first discovered in Oct 2013 on her owners doorstep and just came in made herself at home. The owner got her shots and medical attention, had her spade, chipped and groomed and they were a team until the stress manifested itself in Sadie from the kids. She walks well on a leash and is an all around sweet dog. She needs training to calm her anxious nature down.
Her mom wrote this about her:
She gets a bit anxious around dogs who bark at her and needs to be in a calm environment to insure she stays calm.
Sadie came to us at the end of October 2013. She was dumped at the park at the end of our street like so many people do.
I took her to the vet to see if she was chipped and she was not. The vet stated she was approximately 3 years of age. Had not had her nails clipped in a very long time (if ever). Showed signs of cage of fence chewing on her teeth.
She had the following at the initial visit:
Bordetella vaccination
DA2PP vaccination - annual
DA2PP vaccination - annual
Rabies vaccination - annual
On 11/12/13 she was spayed.
She is also now licensed and chipped.
She is an amazingly happy and playful dog. She does very well when left in the home. She doesn't misbehave at all with the exception of eating food if left on the counter.
She does well around male dogs and will bark at female dogs when they bark first. She chases cats though.
She does well with commands and with proper training I feel she would do very well.
She is fine around children but has SEVERE anxiety when my 3 year old cries or when I discipline him. On more than one occasion she has tried to jump out of a small window in my bathroom that is about 5 feet off the ground. She will also run and hit in his bathtub to "seek safety" when he is crying.
She is an amazing dog and it breaks my heart to not have her but I feel as though our family isn't suitable for her. I haven't had one single problem with her in the 5 months she has been with us.
If you are in a situation where there is tension in the home, such as with small children where corrections arfe normal and daily, then Sadie may not be for you, but if you are in an adult or grown child home, this is the perfect dog. If you wish to get your interview in so that you can meet her, please call 941 575 0243. Pictures to follow later today.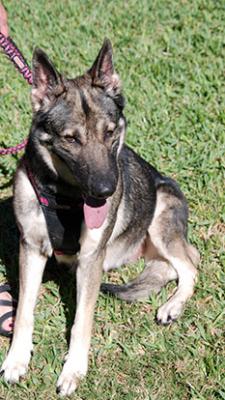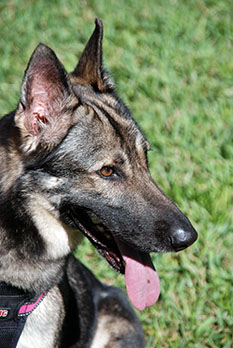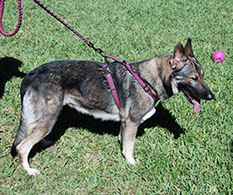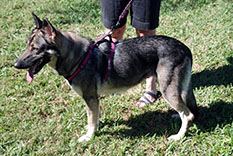 [image6_left]