PRECIOUS NEEDS A NEW HOME
Wednesday, December 04 2013 @ 01:12 am UTC
Contributed by: erik
Views: 2,216
Precious needs a forever home right away!
WE COULDN'T BE HAPPIER THAT PRECIOUS AND POLY HAVE NEW HOMES UPDATE 1/4/14 Precious left this evening for her new home in Ohio. Her new daddy drove 19 hours to get her and he and she were a perfect match. We both felt a loss when Precious left our home because she was and is truly a special girl and she could not have gone to a better person.
I received Precious in this afternoon 12/3/13. She is a smaller female black and tan GSD. She was used in a puppy mill as a breeding bitch and then discarded. She was found as a street stray in Ft Myers. She weighs in at about 52 pounds and can easily gain 15 pounds and still maintain her beautiful girlish figure. She is in god health, heart worm negative and best of all she is a love. She has beautiful erect ears and seemingly good hips. Se does run well and is eager to please you. She is about 1.5 years old. She is a totally social dog with no aggression toward dogs or people. She is yet untested with cats, but with her fabulous disposition she will probably do just fine. She was obviously starved but not ever mistreated or beaten. She has no reactions to hands or hugs, to loud noises or barking dogs. She does OK on a leash and does know sit but she will have to immediately go into training. She and I played in the yard for about 45 minutes, and after just a few minutes time she came to me willingly and sought me out. She does racing ears when approached by people, which is the best initial sign we have of submissive behavior for new dogs. Precious ( and her sister Poly) were just finished nursing their pups when she was dumped and is still lactating a bit. This will dry up quickly and after she is spade tomorrow (Wed) she will be ready to go to her new forever home. If you are looking for a sweet, calm and lovable GSD, Precious and Poly are the dogs for you. They will go fast sso if you are interested please call me to get your interview in by this week at 941 575 0243.
See new picture of Precious meeting her room mates!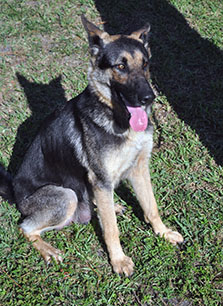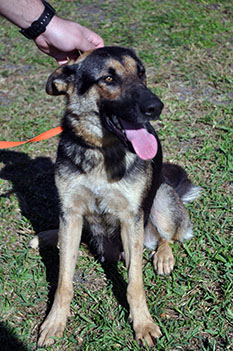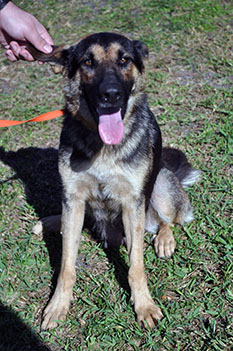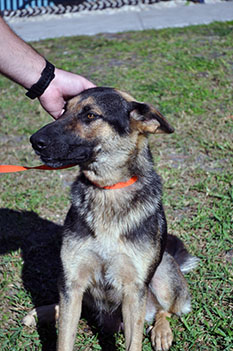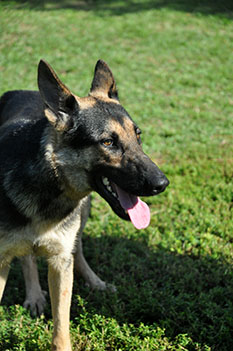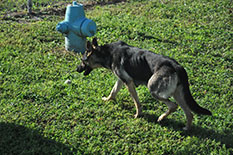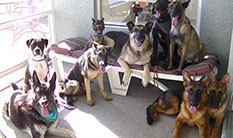 [image8_left]
[image9_left] [image10_left]
[image11_left] [image12_left]