EMMA HAS A NEW HOME
Wednesday, April 03 2013 @ 07:20 pm UTC
Contributed by: erik
Views: 2,028
THE NEW GIRL IN TOWN IS NAMED EMMA AND SHE HAS A NEW FAMILY Emma was a street stray in Lee county. She is a spade female black and tan GSD, perfectly proportioned at 70 pounds. She looks just like Rin Tin Tin with her diamond face marking. She has soft fur and was obviously well treated. She seems a bid reactive with our dogs yet showed no aggression or stress in the shelter. We did an introduction in the last hour and unfortunately she showed some aggression to our dogs, both the reactive ones and the passive ones. She has only been here a day, but from what i have seen this afternoon, she can only be in a home with no dogs and no cats and she definitely needs some serious socialization training. It is for this reason that she will be residing at Lee County Domestic Animal Services and not with us.
We believe she is no more than 2 years old. She has had some training but that will become more evident in the next days. SHE IS TRULY AFFECTIONATE WITH US and would be great in a single dog household, especially with a person who does not do doggy beaches or dog-parks..
Emma is Heart Worm positive and we have a treatment day of 4/22 and 4/23 to complete her treatment in Lee County FL, which then requires a 4-5 week no activity regimen. Once that is done she will live a full life as she is otherwise healthy. Emma does have a hip issue on her left rear leg. She is completely mobile now and can run and jump but it is important to note this issue. Many GSD's with hip issues adapt and can have fully mobile lives without surgery, however we believe in letting everyone know all of the conditions any rescue dog has.
When she was coming out of the shelter she was in the loose cat area and had no reaction at all, but not so here at our house. We did see that when she got here that she was 'interested' in our kitten bordering on aggressive, so NO small cats and small dogs. We will know more in the coming days.
We are glad to announce we did find Emma a home 'Just in the nick of time".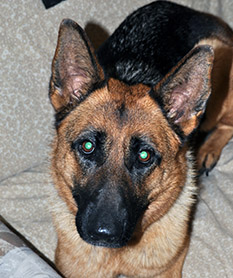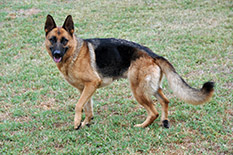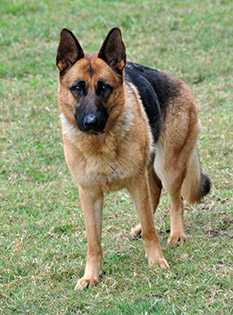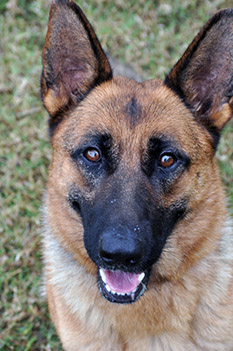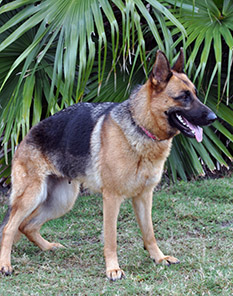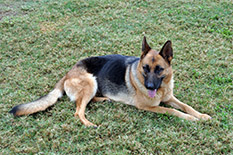 [image8_left]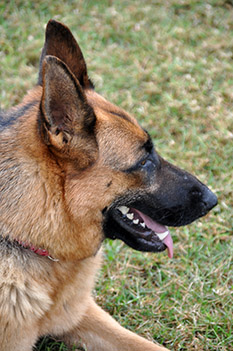 [image9_left]
[image10_left]