HILDI has been placed
Friday, January 25 2013 @ 10:47 pm UTC
Contributed by: erik
Views: 2,772
HILDI HAS BEEN TAKEN BY A FOSTER IN CAPE CORAL
She will be here for a meet and greet whenever we have an appointment to see her. She is with a foster.
HILDI WAS ADOPTED OUT THROUGH ANOTHER RESCUE GROUP! WHOOPEE We had the opportunity to evluate Hildi this afternoon 1/25/13. She is a sweet female black and tan classic GSD. She weighs in at about 60#'s and does need to put on weight. They did try and fatten her up without much success. She has a clean bill of health from a vet and is in great shape. Hildi is about 3. She is healthy and was previously cured of Heart worm and she is now fine. She is very energetic and loves to play. She has been in a home with 2 boys ages 12 and 8 and she has also lived with a lab. She is dog friendly and playful and yet has not really been with many small dogs. We have not evaluated her with cats, so cats are not on her list of acceptable critters. She does like larger dogs and was great with our Golden, Clancy and our young GSD Rudy. She has a great gate and runs very well. She is strong and yet very soft with the kids. She likes to give you her belly and does sit and come readily and willingly on command. She knows 'no', paw, sit and come quite well but definately needs more basic obedience training. Her leash work is OK but not great, but this is a totally teachable dog who will learn these skills in weeks.
Hildi is a black and tan, spade female GSD with a defined saddle and a beautiful coat.
Hildi has a major issue of separation anxiety. She wants companionship and wants to be with your 24/7. Since this is not possile, she needs to be crated and tolerates crating well. She will go in the crate but tries to escape when you are gone so a strong crate is essential. This too is a trainable issue but one that needs to be understood by any adopter up front. She seeks out attention and loves people. She wants to please and is treat oriented. Hildi is a very young dog who has everything to give and with the right home, she can become a great dog!
If Hildi is of interest, please email or call us at 941 575 0243 and when we can begin the adoption process.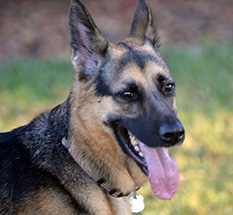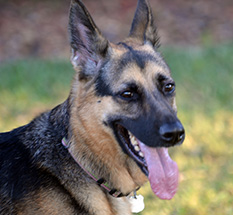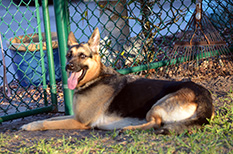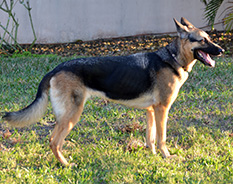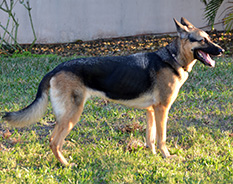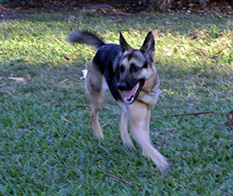 [image7_left]