BEAUTIFUL PUPPY POLY HAS A HOME
Monday, December 10 2012 @ 03:40 am UTC
Contributed by: erik
Views: 1,647
BEAUTIFUL PUPPY POLY HAS A FOREVER HOME Puppy Poly is now Lady and will be spending her life with Sadie, her new sister and mom Allie and dad Dave.
We got Puppy Poly in today, She is a 5 month old beautiful silver and tan female GSD. She is a bit overwhelmed with the transition between being dumped, picked up and spade in just a few days time. Her fearfulness is quite temporary but none the less present at this time. She will probably stay with us for a few days so we can study her temperament which is still in question. She will definately be an alpha female if what we see now is a gopod indicator of her temperament, however if given the proper training she will turn around quickly. She would be best suited as an only dog. At this juncture we recommend only older kids to young adults in the home. She has had zero tarining and we will know more in the coming days in so far as what she does and does not know; if she is housebroken, if she 'plays well with others' and what home enviornment suits her best.
If you are interested in a puppy like Poly, let us know and we can arrange for you to meet her. This dog will require at least 2 full sessions of training one of which will be puppy class.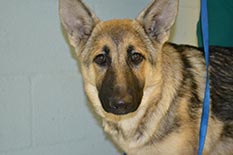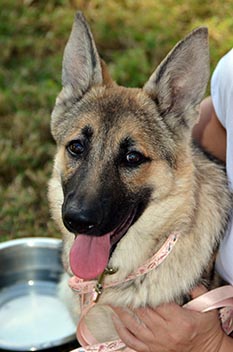 [image3_left][image4_left]