PUPPY JACK NEEDS A FAMILY
Monday, February 27 2012 @ 08:33 pm UTC
Contributed by: erik
Views: 1,800
PUPPY JACK WILL BE AVAILABLE ON OR ABOUT 3/3/12
Diane and I are happy to report hat Puppy Jack, who will now be known as THOR has a new mom and dad and will be living in Orlando.
We just got Puppy Jack in last night. HE IS SPECTACULAR. Besides being absolutley georgous he is smart and loving. He has already met the pack and fit inperfectly. He learned the whereabouts of the bowls and how to use the doggy doors in about 2 minutes and today will begin swimmming lessons. He will be neutered early next week and will be immediately available by the following Wednesday. Jack is a male GSD weighing in at about 45# and he is 5 months old. He will be a moose! He is a Black and Tan GSD, primarily black however with tan and brown markings. His ears just stood up this morning. He was originaly from SD but moved to Florida for the warm climate and beautiful surroundings. He is untrained but comes to your voice, knows sit and down and goes into his crate willingly.
In order to adopt him, you will be required to bring a certification of training, pre-paid, before we will consider adopting to you. If the adopter is from anywhere in the Punta Gorda Area, we will require prepayment of two full 6 week classes at Peace River Dog Fanciers which will be $140.00 for both classes, puppy and beginner obedience. This is manditory, so if you want him, please sign up and pay for training from a reputable socialized training facility, schitzund or comprable training group before coming for the interveiw. (Please bring us the receipt and their phone number.)
Puppy Jack is almost (not fully) housebroken and walks fairly well on a leash, otherwise he is a blank slate. As with all puppies, we are very very particular who gets him, so please let us know if you are interested and we can discuss it before you come. Puppies are energetic and they require 1 year of training. They are possibly destructive (although we do not know what Shack is like in that area) They need socialization and they need to run and play hard daily. GSD puppies need to be crated when not monitored and trained at every level (positively) by a kind hand and warm heart. Mostly GSD puppies need a loving dedicated family with the time and resources to care for them. Please read the information on owning a puppy on this site.
We look forward to your call.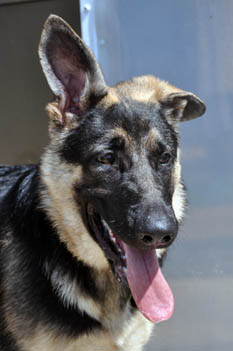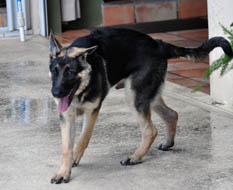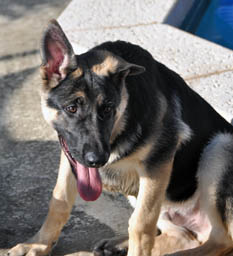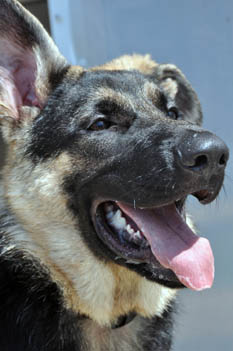 [image5_left]