BEAR NUMBER HAS FOUND A FOREVER HOME
Monday, August 01 2011 @ 12:21 pm UTC
Contributed by: erik
Views: 2,051
THE GREAT BLACK BEAR FINDS A FAMILY TO LOVE
GREAT BLACK BEAR NEEDS TO FIND A HOME
We are please to report that Bear5 Has been placed!
My name is Bear, yes I know that 5 dogs in the past year have been called Bear, but that's the best I can do given that is the only name I know. I have been at tthe Hoffers house now for 2 weeks. I have shown that I am a truly loving sweet and adorable dog that really needs a faily to play with and to be with 24/7. I like cats and dogs and I am all about play. I love to go to bed in my create with a ball or two and I love to play ball outside for as log as I can. I am going to learn to swim this weekend now that my stitches are out from my neutering.
I am a neutered 8 month old male long(er) hair Black GSD (mix). I look and act like a German Shepherd and I am as smart as they come! Tthere is some Chow in me and I am proud of my mixed heritage as I am the best of both breeds. You can say I am a little bit of Country and a little bit of Rock and Roll. I weigh about 65# and I will probably be no more than 75 pounds max. I have beautiful feet. I know some commands like sit and stay and I speak both English and Spanish. By the way, I can say Bye Bye…and docouch cuddles. I am alert and engaged and I respond to food rewards and especially praise. I love o be handled and to interact with people. I like kids and crowds and I would make a fantastic addition to any home.
I was found by a kind lady who kept me for a few months. Her husband became terminally ill and she was forced to give me up. I need to be formally trained but I am eager to learn and a willing participant. I am fine with dogs and cats, but the longer I stay here at SW Florida GSD Rescue, the more they will know about me and the quicker I will learn from the boys and girls who live here. I am exceptionally calm with people and respond well to food rewards and praise. I am a good hugger.
If you want a great looking, exceptionally smart and sophisticated pooch, I am your man. Please call Diane or Erik to see me at 941 575 0243.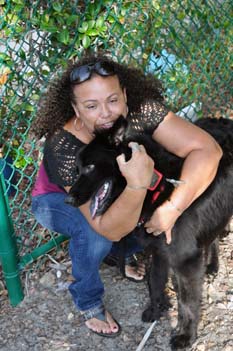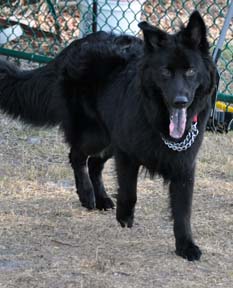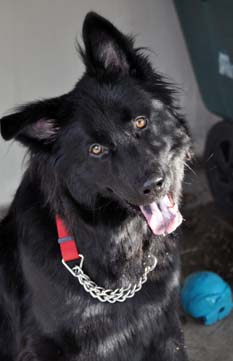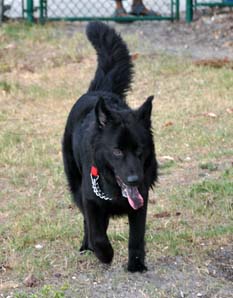 [image5_left]