MORE INPUT FROM ADOPTERS
Tuesday, February 01 2011 @ 07:58 pm UTC
Contributed by: erik
Views: 1,948
INPUT FROM ADOPTERS
Dear erik and Diane,
Rasta has become part of the family. He has adapted to his new home and has ingrained himself in our hearts. At first he was anxious and attempted to get back in the car. After we walked him and introduced him to the cats he settled down.
Pam read in his file that he was not interested in toys. Well, Pam had a large tennis ball that he began to play with. When the ball went in the pool he began to bark and attempted to reach the ball without getting wet. The attached picture shows just how far he would go in his attempt.
His only time of stress was when I left to go to the store. Pam said he whined and kept walking from the door to her and whinning. He is now more comfortable and accepts that we will return.

Thanks again for thinking of us.

Bill & Pam

Hi Erik and Diane!!

We just wanted to send you a note on Lacy!! We get so many comments on how beautiful and well mannered she is, and we'd like to think you guys had a hand in that! We walk her to the bus stop with our daughter and she's made lots of new friends! There is a woman with a son that is just in love with Lacy. She loves GS and wants your information! I'm going to pass it along!! I hope they can find a wonderful match for their family as we have!!

Thanks a bunch!!
Jared and Candice Carey.....and Lacy too!
Hello Erik,
I just wanted to touch base with you and let you know how thankful we are for you and your lovely wife for bringing Macy into our family. As you can see she is quite happy, quite the Queen and quite wonderful to have as a family pet. She remains fantastic with our grandchildren and family and friends and we could not ask for a more loyal and better dog. She is a beauty!
We just wanted you to know how thankful we are for all of the good work that you do.
Mark & Ruth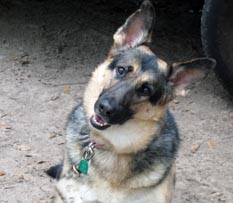 Hi Erik,
This is Peggy Aimaro, and I just wanted you to know that Titan is doing real good. He is a wonderful little boy. We are so blessed to have him. I can not tell you how GOOD he is.. He sure is a mommy's boy.. I can't wait till the end of next month so I can take him to his obedience classes. He is going to be very easy to learn.. We thank you so much for him.... Oh by the way... do you have his papers with his shots and his chip??? We will keep in touch...
Thanks Again......... Peggy
Hello Mr. and Mrs. Hoffer,

I just wanted to send you both a quick update on our sweet Keisha. She has settled in very nicely. She had been eating a bit "peckishly", but today ate with GUSTO. I started her on some Prilosec in case the Doxycycline was upsetting her stomach, and it seems to have helped. She also played with a kong throw toy for the first time today. She has done VERY well with my little girls. There were a few growls the first day, but everyone seems just fine now. She has slept on her big, new, comfy pillow the last 2 nights, right beside my bed. She gently woke me with a nudge each morning to go outside. I told her she could sleep on the bed, but she seemed to prefer the dog bed. I heard her bark for the first time today when a delivery man came to my door. She has a wonderful deep, throaty bark that she used at an approiprate time. She stopped as soon as I asked her to sit and answered the door.

I couldn't be happier with her as part of my family, and I am VERY grateful that you not only saved her, but also considered allowing me to be her forever home. THANK YOU!!

I will keep the updates coming. I plan to do her chest radiographs and the microfilaria test next week and will also update you both on those. THANK YOU AGAIN!!!!

Sincerely,

Amanda