LUKA IS STAYING WITH HIS PRIOR FAMILY LUKA was adopted out to a family about a year ago. She is a 4-5 year old sable female GSD. The original adopter was an older man who lived with his kids. His situation was changed and the the family just doesn't have the time for Luka any more and wants her to be in a home where she can thrive. Luka is a good girl that needs a strong leader but an affectionate companion, which is why she was adopted to an older gentleman. She is quite playful, up for any game, housebroken. spade, obedient and eager to please. The family did not take the time to do the socialization component of their agreement, which Luka needed badly, and so Luka is a bit dog averse. She can be turned around but needs a person that can handle her reactivity. In a single dog home, which is where she belongs, she is a gem. If the prospective adoptive family wants a playful large dog, whose deterrent value is tremendous, but a loyal girl, Luka fits that bill. She has not been around cats and we have not had her with kids. She doesn't like chaos which indicates older kids 15+ would be best suited for her. If you are a small 1 or 2 person family who wants a great pet, Luka is that girl. Her owner wrote:
A little about Luka…
Luka is a 7-year-old female GSD that is very energetic and loves to play. She knows basic commands but we were told she has extensive training. We believe her training is more around PTSD rather than obedience training being that she does not like to see horseplay and tries to intervene. She absolutely loves her balls and is never without one in her mouth. She will play fetch for hours and not get tired. She has no food aggression at all and will take treats gently from your hand when offered. Luka needs someone who can work with her on leash training or someone who has a fenced yard for her to run in. Of course, at her age she is 100% house trained and has never had an accident. She does not like to go on furniture even when invited. She has 2 dog beds that she lays on intermittently but also likes the cool tile floor when she comes inside to cool off on. She like to play with water from the hose and likes to get a bath. Unfortunately, Luka does not get along with other animals and would need to be an only pet. We really haven't had her around children so we aren't too sure how she would react other than knowing she doesn't like horseplay.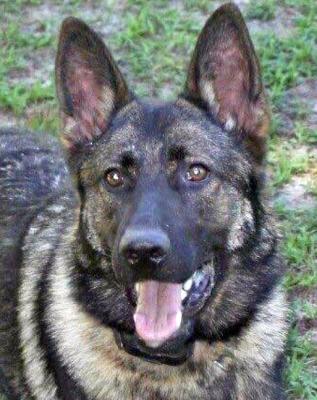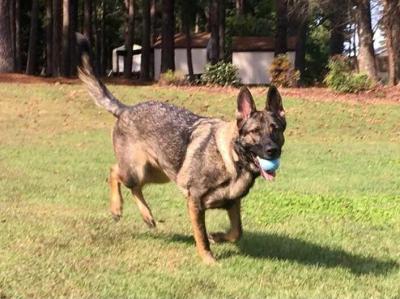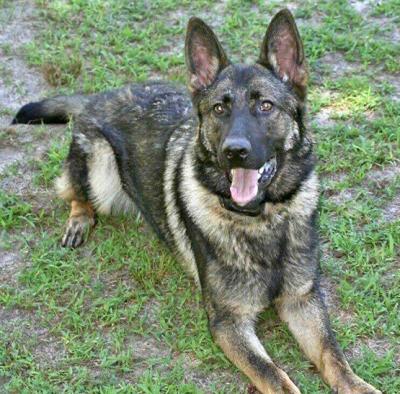 [image4_right]
[image5_right] [image6_right]