APOLLO IS STAYING AT HOME AND WITH HIS FAMILY
Monday, March 22 2021 @ 04:58 pm EDT
Contributed by: erik
Views: 2,744
APOLLO HAS A NEW HOME AND FAMILY Here is Apollo, he is an 11 month old semi long hair black and tan male GSD. He weighs in at about 80 pounds and he is a strong willed dog. He is well trained, obedient house broken and super affectionate. He first came into the rescue in April and was adopted out to a law enforcement officer. Because of work requirements he no longer has the time to care for him and is returning him for re-homing.
Initially, because of his high energy, he was placed in rehab with Dale (our head trainer) in order to determine if his issues were due to some inert aggression, or just lack of training and the need for a strong leader in charge. It turned out he just needed a strong leader and everything else fell in place when this person got him.
At this time he must go to a family who knows how to be alpha to him, has the time to work him; and one who will provide the consistent training he needs. The training he needs will be both in a social class and individualized sessions. He needs basic skills and off lead recall skills. He is neutered, HW Neg and has all shots and a chip. If you have the skill and can document that please reach out to us. We also recommend a fenced yard and another young neutered dog as a companion. This is not an easy dog and requires time and consistency to get him to become the great dog he was destined to be. He has had no real discipline until now and as such made his own rules. You must change this in him and dominate his tendency to control by being the benevolent dictator and controlling his everything. He has had some basic practice with an E collar and a prong and has done well. He is people friendly but has to be introduced. He is dog friendly but here again it must be a reasonably calm dog. Cats are an unknown.
HIS CURRENT OWNER A LAW ENFORCEMENT OFFICER, WROTE THE FOLLOWING TO HELP PEOPLE KNOW WHO APOLLO IS:
I've had Apollo for a couple of months, Apollo came to me with a couple of Issues one was jumping and the other was nipping at hands, social behaviors. I found that Apollo had not been exposed to a lot of different environments which I started taking him on walks getting him exposed to different surfaces different areas, bushes traffic loud noises. He has not shown any animal aggression except to one other male dog he has gotten along with is extremely playful with the dogs he has interacted with. I have broken him of the nipping and the jumping. Apollo has a significant energy level he needs to be run and played with consistently to expel that energy has a very home ball drive or toy drive. He will play fetch with just about any object. He does enjoy chewing so plenty of toys available that will prevent chewing on things that he's not supposed to. He has been around various ages from 2 to 3 up to adults haven't had any issues with small children or people, in general, he does have a bit of defense that he's curious when someone new arrives however he's not shown any type of aggression during those times he is crate trained and will load up in a crate he will also go into a kennel or larger area he does listen very well now. On the walks that we've taken them on, he has not shown any small animal aggression towards cats or rabbits however he's never been up close to a cat so that would be an unknown.
As far as obedience I began basic obedience with him healing sit stays however it has become inconsistent and needs to be continued.
He eats well and has no issues with the groomer or getting a bath. Except For the blow dryer at the end. He tolerates getting his nails clipped.
He has been on Trifexis and gets it on 1st of month.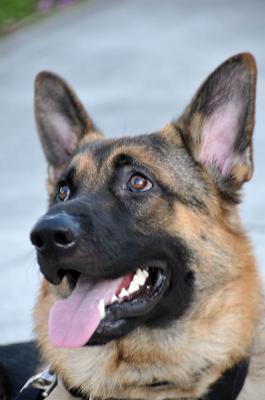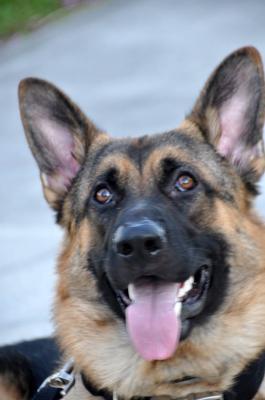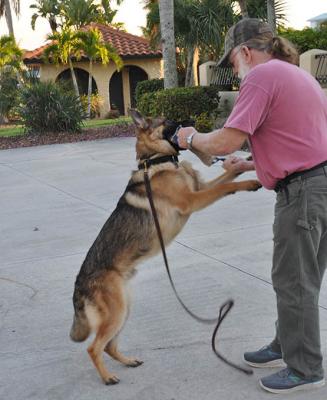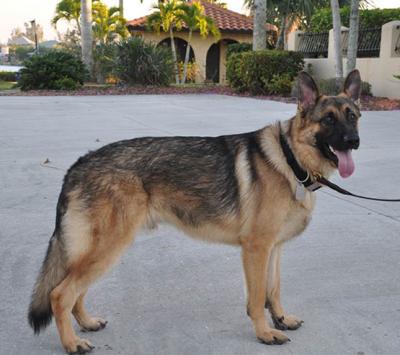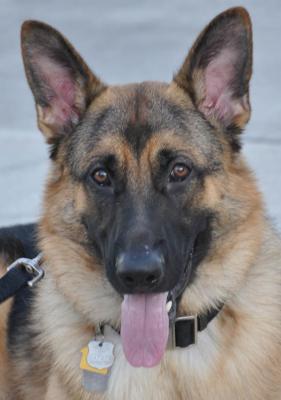 [image6_right]
[image7_right] [image8_right]